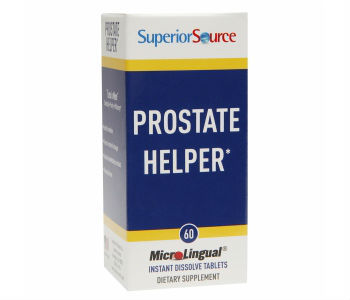 User Ratings (

0

Votes)

0
Prostate Helper, as the name suggests, is a dietary supplement meant for enhancing prostate functioning, maintaining its general health and fighting symptoms of prostate related problems like frequent urination, nightly urination, irritation or discomfort during urination etc. all of which are caused due to enlargement of prostate gland. It contains a herbal blend of some of the popular ingredients used in most prostate dietary supplements and claims to be quite effective, a statement based on the strength of the ingredients used, most of which are clinically proven to be effective.
This supplement is developed by a company called Superior Source about which much information is not available. However, one feature of this supplement which sets it apart from other products is that instead of swallowing it like a pill, it is supposed to be sucked on like a candy. It dissolves pretty fast once it is kept under the tongue and leaves behind a refreshing peppermint flavour in the mouth.
Ingredients
The composition of this supplement is fairly simply with one herbal blend comprising of all the main ingredients essential for prostate health and some minerals, along with lactose and peppermint flavour added separately. You can check out its list of main ingredients below:
Saw Palmetto – A very useful herb which controls testosterone levels in the body and also shrinks the size of the prostate to its functional level.
Pygeum Bark – Extracts from the bark of this African tree have been known to fight symptoms of prostate cancer and reduce frequency of urination.
Cranberry – Rarely used in prostate dietary supplements but is important for keeping away urinary tract infections.
Selenium – An excellent anti-oxidant which detoxifies the whole body and promotes blood flow.
Zinc – A mineral closely associated with health of prostate gland whose deficiency can cause prostate inflammation.
An important ingredient called the Beta Sitosterol which is commonly used in enlarged prostate treatment medications as well as herbal supplements is missing from this product which sets it back from its competitors.
Dosage
The recommended dosage is one tablet in a day which can be swallowed but should preferably be kept under the tongue and allowed to dissolve before swallowing.
Side Effects
There have not been any reported side effects of this supplement, probably because all the ingredients used are herbal and no harmful chemical drugs have been used in the composition.
Superior Source's Prostate Helper will surely have long term effects if the dosage is taken as recommended for a number of months. In fact, the effects will not be instantaneous and will take at least 30-40 days to manifest. In general, a user of this supplement can be assured of a sound prostate health and would be at a lower risk of prostate cancer.
Price
The price of one bottle of this supplement, comprising of 60 tablets is $9.99 USD. Since the dosage is of one tablet a day, this effectively means an expense of $5 for a month's supply. This is an unbelievably low rate for any dietary supplement. One reason for this may be that many of the popular prostate health ingredients are missing from this supplement, while those that are present like Saw Palmetto are there in very small quantities. Overall, it is a very mild supplement and it seems as if the recommended dosage is incorrect.
Guarantee
No guarantee seems to be provided by the manufacturer. However, if you are keen on buying the product, you may contact the company to verify.
Conclusion Of Our Superior Source Prostate Helper Review
The lack of information about this supplement as well as the manufacturing company raises doubts about this product. Very little information is available on the official website and not much has been said about it on other websites as well. Besides, it can also be said with some confidence that the lack of important ingredients and mildness of those present do not really say much about its effectiveness.
The cheap price can seem attractive but it would be better to invest even those $9.99 on a more worthwhile product.
Bringing you top reviews and product analysis - Consumer Advisors.