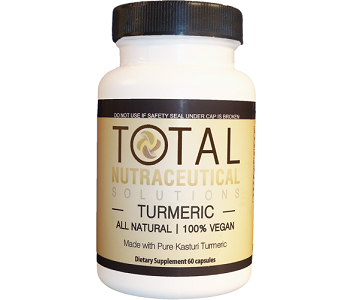 User Ratings (

0

Votes)

0
Today we review Total Nutraceutical Solutions Turmeric.  This all-natural, vegan supplement contains Pure Kasturi Turmeric which offers many health benefits. Every supplement contains anti-inflammatory qualities and helps to support immune health.
Ingredients
Every serving of this supplement contains 1,000 mg of curcumin.  Unfortunately, it is not stated the standard of turmeric that is used.  Through our research, we know that all extract like this needs to be standardized to 95% for it to be fully effective.  Also, this supplement is missing BioPerine, which is an important ingredient to help your body absorb the nutrients in these capsules.
Dosage
Everyday you should take 2-4 capsules of this supplement with a full glass of either water or juice.  Two capsules is considered one serving. Whatever number of pills you choose to take, they should all be taken together.  Although, without knowing the quality of the curcumin, it is impossible to know whether this will work at all, even with taking 4 pills at once.
Price
Every bottle of this product comes with 60 capsules.  This will be enough for a minimum of 15 days, depending on your chosen dose.  By purchasing this supplement directly from Total Nutraceutical Solutions on their website, one bottle costs $14.99.  Shipping is an additional $8.59. On top of this, there are no discounts available for this product and no minimum purchase to qualify for free shipping.  With such high shipping costs, this supplement is more expensive, especially if you take 4 capsules per day.
Guarantee & Feedback
By searching through the company's entire website, we were unable to find any information regarding any type of guarantee or refund policy.  Without a money back guarantee, it shows that the manufacturer does not fully stand behind their products. If you make the decision to try this product and find yourself dissatisfied with the results, it seems that you will not be able to return your unused products for a refund.
Additionally, there are no customer reviews available for this product.  Both on the manufacturer's website as well as other third party websites, we were unable to find any customer usage reviews.  Without customer reviews, it is impossible to see how well this supplement truly works and whether or not it may have unreported side effects.
Our Conclusive Review About Total Nutraceutical Solutions Turmeric
There are a few things we liked about Total Nutraceutical Solutions Turmeric.  Each serving of this supplement does have 1,000 mg of turmeric, which is the daily recommended serving.  Also, the dosing recommendation is flexible so you can take more or less, depending on your need.
Unfortunately, there are many things that concerned us regarding this supplement.  First of all, it is not listed the actual quality of the curcumin used, which is a huge indicator of the effectiveness of this product.  Secondly, the high shipping costs and lack of discounts make this product more expensive. Lastly, there is no money back guarantee or customer reviews available anywhere on the manufacturer's website.  For all of these reasons, we cannot recommend this supplement to help decrease your inflammation.
Bringing you top reviews and product analysis - Consumer Advisors.