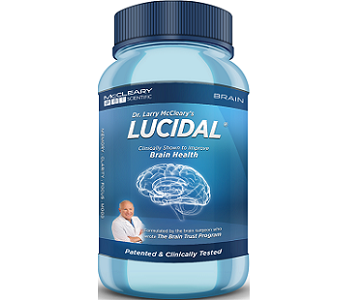 User Ratings (

0

Votes)

0
Lucidal is a dietary supplement that is designed to increase brain health. This McCleary Scientific Lucidal review is going to take a closer look at the facts and details to learn more about this brain boosting supplement and to see if it's worth trying out. The manufacturer claims that Lucidal will improve the function of many of the brain pathways that deteriorate as you age.
Ingredients
The manufacturer does not have the label information or any of the ingredients listed on their website. They boast on their website that their product contains more than 50 ingredients and in their FAQ they say that part of their supplement acts as a multivitamin so it can be assumed that it does contain a variety of vitamins. Also in their FAQ they say that their Lucidal provides extra energy and without the addition of any stimulants so we know theirs no stimulant ingredients. The manufacturer has a well organized and concise website which leads us to question why the manufacturer chose not to have the ingredients on their website or what they are trying to hide.
Dosage
Because the manufacturer does not have the label information online, we do not know for certain what the dosage recommendation is. They say that in the human clinical trial subjects took three capsules in the morning with a meal. It can also be taken three times a day or two pulls at one time and one at another. They also say that Lucidal is best taken an hour before a mentally taxing event or when maximal effect is desired.
Possible Side Effects
We were unable to find any side effects associated with this product.
Price
We found that you can exclusively purchase Lucidal directly from the manufacturer. One 90-capsule bottle costs $74.99. They do not offer any discounted bulk purchasing packages. Considering that one bottle will last you only a month, the costs can add.
Guarantee & Consumer Feedback
McCleary Scientific offers thirty days to get a refund but only for new and unopened products that are in their original packaging. Throughout our research of this product, we were unable to find any consumer feedback anywhere online. The lack of consumer feedback makes us question whether or not this is known product. It also leaves us without the ability to get an idea if this product has had effective results for users.
Our Conclusive Review About McCleary Scientific Lucidal
McCleary Scientific Lucidal appears to be a decent brain boosting supplement. The manufacturer offers a money back guarantee and it is made with fifty different ingredients which is one of the highest amounts of ingredients we have seen in a product. However, the manufacturer does not list what the actual ingredients are. It seems nice that there are so many ingredients but without knowing what they are, there's no way to know if they are effective. McClearly Scientific also does not include any label information like the dosage recommendation or safety warning. Without knowing this crucial information, there is no way to know if this product will be effective. They also offer a mere thirty days to request a refund which is not a fair amount of time time to determine whether or not a supplement is working for you. Considering all of these factors, choosing Lucidal is risky.  You are better off choosing a product that is forthcoming about all necessary product information.
Bringing you top reviews and product analysis - Consumer Advisors.