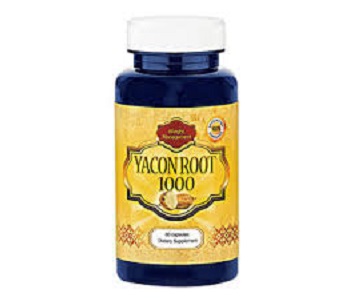 User Ratings (

0

Votes)

0
Yacon Root is one of the latest weight loss crazes to join the world of weight loss supplements. It was dubbed the 'diet potato' after it was discovered for its appetite suppressing and metabolism boosting properties. However, farcical weight loss products have caused the consumer to lose faith in weight loss supplements that promise big weight loss results with minimal effort but end up falling flat. For this reason, we find it necessary to investigate weight loss products to determine the product's integrity. This review is going to take a closer look at Totally Products Yacon Root Extract. Yacon Root Extract is a dietary supplement that is taken in the form of a capsule. The manufacturer claims that it increases weight loss results by curbing your appetite and boosting your metabolism by stabilizing blood sugar.
Ingredients
Yacon is a plant that is native to South America. It can be used as a natural low-calorie sweetener when consumed in the form of a syrup but also is believed to provide several health and weight loss benefits. It has been dubbed the "diet potato" because it has been found to possibly suppress appetite and boost your metabolism. It also believed to regulate body fat and prevents excessive cholesterol accumulation.
Dosage
The manufacturer recommends taking one capsule before meals with an 8 oz glass of water.
If you are pregnant, nursing, under the age of 18 or under medical supervision, you should consult with your doctor before taking this or any dietary supplement.
Possible Side Effects
Totally Products does not list any possible side effects. Through our research we found that common side effects associated with taking high amounts of Yacon include flatulence, bloating, digestive discomfort, nausea, and diarrhea.
Price
This product is exclusively available through third-party retailers. We were able to find one 60 capsule bottle of Totally Products Yacon Root Extract on a third-party retailer's website for $17.99. There are no bulk purchasing packages or discounts offered.
Guarantee & Feedback
The manufacturer does not offer a money-back or satisfaction guarantee. Any guarantees will be subject to the terms and conditions of the third-party retailer you purchase from. There are nearly no consumer reviews or testimonials about this product on any forum. The few we were able to find are mostly negative. Consumers reported that after taking this supplement continuously and as recommended by the manufacturer, they experienced no effects.
Our Conclusive Review About Totally Products Yacon Root Extract
This product appears to be decent. It comes in easy to swallow capsules that contain a decent dosage of Yacon Root Extract. However, the manufacturer does not offer a satisfaction or money-back guarantee or bulk purchasing packages or discounts. This means that if you try this product and it does not work for you or you experience adverse side effects you cannot get your money back. Furthermore, there is limited information available about this supplement. The few consumer testimonials we saw claimed that this supplement is weak and does not deliver on its promises. Taking these factors into consideration, this product is too risky to rely upon to achieve real weight loss results.
Bringing you top reviews and product analysis - Consumer Advisors.