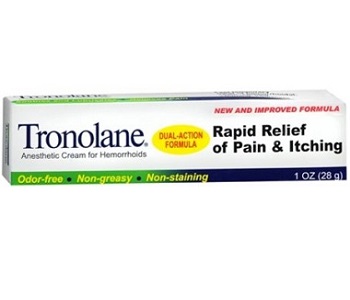 User Ratings (

0

Votes)

0
Today we review the product Tronolane. Hemorrhoids are swollen or enlarged veins in your anal cavity and lower rectal tract. Sometimes the cause of hemorrhoids is unknown but most of the time it is caused by straining during bowel movements or pressure that is put on the veins in the anal area. Some hemorrhoids go away on their own but other times it may be wise to invest in some help. Tronolane claims to relieve pain, soothe and lubricate the affected area and make you overall more comfortable. This product has a dual action formula that is odor-free, non-greasy and non-staining. If you would like to know more, read the rest of our review below.
Ingredients
Active:
Pramoxine Hydrochloride 1%
Zinc Oxide 5%
Inactive:
Cetyl Alcohol
Cetyl Esters Wax
Glycerin
Methylparaben
Propylparaben
Sodium Lauryl Sulfate
Pramoxine Hydrochloride is used to relieve pain, itching, swelling and discomfort caused by hemorrhoids and also other problems in the anal area. It temporarily numbs the area because of the anesthetic nature of the ingredient. Zinc Oxide creates a protective barrier that prevents further irritation. It also relieves burning, pain and itching.
Dosage
Unfortunately, we could not find any application instructions or any indication of how much product you should use with each application. As far as we know this product also comes with an applicator nozzle but is not supposed to be used for internal application, which seems a bit odd and contradictory.
Possible Side Effects
Seeing as we couldn't find any application instructions, we have no way of knowing if there is a limit to the amount of product that you can apply to the affected area before experiencing adverse effects. If you are pregnant, nursing or taking prescription medication we would advise you to consult your doctor before applying this product.
Price
You can buy this product on Amazon for $6.16. Each tube contains 1 Oz of product. Currently, there doesn't seem to be any discounts available regarding this product although this price does include the shipping costs.
Guarantee & Feedback
If you buy this product from Amazon then you will benefit from their 30-day guarantee policy. The product itself does not come with its own guarantee so you will have to buy it at 3rd party retailers who have their own guarantee policies. Customer reviews regarding this product were not overwhelmingly positive. Some of the reviewers on Amazon stated that this product did not work, burned sensitive areas and that it was too expensive.
Our Conclusive Review About Tronolane
We like that this product has 2 active ingredients instead of just one that helps to relieve customers of pain, itching and discomfort. We also like that this product is widely available, both in stores and online. However, we are disappointed in the price of the product. A lot of other products are more reasonably priced giving you more product per dollar. We also are not overly confident in this product's abilities after reading some of the negative comments on Amazon. Seeing as the dosage and application instructions are not available we also can't tell how long one tube of product will last or how it should be applied for maximum effect.
Bringing you top reviews and product analysis - Consumer Advisors.