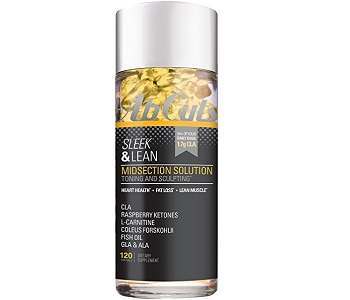 User Ratings (

0

Votes)

0
Losing weight is a goal of many in today's society. However, many people fail or struggle to actually lose the weight. This has resulted in the emergence of diet supplements on the market claiming to make the weight loss journey easier. As there are so many products now available, it is important to do your research to find the best product. This review of Ab Cuts Sleek & Lean Midsection Solution aims to help you with your purchasing decision. This product claims to comprise of easy-to-swallow capsules that are designed to reduce body fat, increase lean muscle, and improve muscle tone.
Ingredients
This supplement contains a 2270mg blend of ingredients including CLA oil derived from safflowers, fish oil, raspberry ketones, borage oil, flaxseed oil, sesame seed oil, L-carnitine, forskolin. While these ingredients are popular for weight loss, the manufacturer has not mentioned why they have combined them into one supplement. Most weight loss supplements contain only one ingredient. The blend of ingredients also does not provide how much of each ingredient is found in the product.
Dosage
The manufacturer recommends taking 2-3 capsules with each meal. It is advised to take 2-3 capsules in the morning, 2-3 capsules in the afternoon, and 2-3 capsules with dinner.
Possible Side Effects
This product is only designed for adults. You should also not use it if you are pregnant or breastfeeding. You should consult your doctor before using this supplement if you are on any other medications or if you have other medical conditions. This product should not be used for two weeks before surgery. This product is made in a facility that processes soybean and wheat products.
Price
You can buy this product directly from the manufacturer and also from different online third-party retailers. The product is currently out of stock on the manufacturer's website, but the regular price is $59.99 for a bottle containing 120 capsules. This bottle will last less than a month based on the dosage instructions. With no options to buy in bulk and save money, it works out to be a very expensive product. We found this product on some other retailers at a much lower price.
Guarantee & Feedback
Ab Cuts offers a 90-day money-back guarantee if you are not happy with the product. They do not state what condition the bottles have to be in to get a refund. The manufacturer mentions that the guarantee only applies to bottles that were bought directly from them and not from other retailers.
We didn't find many customer reviews, however, those that we did find were overwhelmingly positive.
Our Conclusive Review About Ab Cuts Sleek & Lean Midsection Solution
Based on the user reviews, it seems that this could be an effective product to try, though the manufacturer has not provided much information about the ingredients in the product and why they were chosen. The price for this product is very high when buying from the manufacturer's website, however, if you buy from different retailers where the price may be cheaper, you will not be able to take advantage of the 90-day money-back guarantee. The product is also out of stock on the manufacturer's website with no indication of when it will be back which does not seem like a good sign. There are other effective supplements on the market with cheaper prices and more to offer.
Bringing you top reviews and product analysis - Consumer Advisors.