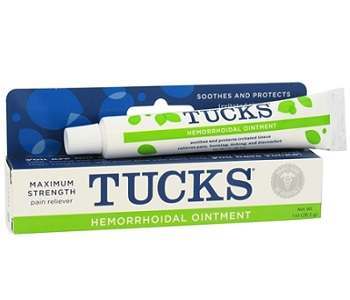 User Ratings (

0

Votes)

0
Tucks Hemorrhoidal Ointment is a topical medication used to alleviate hemorrhoid symptoms. These symptoms include irritation such as pain and itchiness around the rectal area. It also has anti-inflammation properties that should speed up the healing process. It uses a type of anesthetic in order to relieve several symptoms associated with hemorrhoids. Read our detailed Tucks Hemorrhoid Ointment review below to learn more.
Ingredients
Tucks Hemorrhoid Ointment contains ingredients that have been a staple of hemorrhoid treatment as well as other skin irritations. This ointment contains ingredients such as mineral oil (46.6%), pramoxine HCI (1%) and zinc oxide (12.5%). Mineral oil has been used to help keep the skin hydrated and prevent it from drying. Pramoxine HCI is a chemical that can help alleviate skin irritations. Zinc oxide, on the other hand, is a main ingredient when it comes to treating wounds as it is a powerful antimicrobial compound.
This ointment also utilizes the following inactive ingredients:
Calcium phosphate dibasic
Benzyl benzoate
Kaolin
Glyceryl monostearate
Polyethylene wax
Peruvian balsam
Dosage
Application of the ointment is extremely simple. Apply the ointment over the affected area up to five times a day. Remember to clean the area using a mild soap and lukewarm water first. Then gently dry off the area using a soft paper towel. When applying internally, you should use the dispensing cap. Lubricate it well and gently insert into the anus and slowly squeeze the tube to deliver the ointment. Always clean the dispensing cap after every use.
Possible Side Effects
While pramoxine side effects are rare, it must still be noted here. Side effects include a stinging or burning sensation once in contact with the skin. We suggest you stop use immediately and contact your doctor if side effects occur.
Price
At the moment, Tucks Hemorrhoid Ointment is unavailable on Tucks' official website as well as through their official retailer accounts in some online stores. We could not find information about the pricing anywhere.
Guarantee & Feedback
Tucks Hemorrhoid Ointment does not come with any money-back guarantee. This is a sure downside for this product as it currently does not have any significant online presence. There are also only a handful of available customer testimonials. These reviews are mixed at best. There is also the issue of it being unavailable in the market. We do not know when it will be sold to the public as the manufacturer has not made any statements regarding this issue. For all we know, the product might have been discontinued or phased out.
Our Conclusive Review About Tucks Hemorrhoid Ointment
Tucks Hemorrhoidal Ointment contains ingredients that are common in most hemorrhoid topical treatment products. Based on this information we can conclude that it should offer relief from hemorrhoid symptoms. However, the active ingredients in this product are not natural and carry a higher risk of side effects such as skin irritation. This product also does not seem to have much of an online presence and may be difficult to purchase. You might have better luck looking at other hemorrhoid products on the market.
Bringing you top reviews and product analysis - Consumer Advisors.