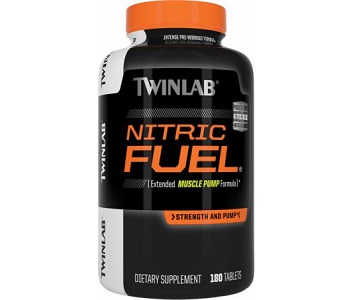 User Ratings (

0

Votes)

0
Nitric Oxide supplements have powerful performance enhancing properties. Many athletes and bodybuilders use these supplements to boost their production during exercise and workouts. In the following review of Twinlab Nitric Fuel, we have closely analyzed this product's ability to increase blood flow, enhance muscle strength and boost energy levels for a more efficient workout.
Ingredients
Di-arginine Malate
Di-creatine Malate
Citrulline Malate Acid
Aspartic Acid
Glyceryl Monostearate
These ingredients form what the brand coins a Nitric Fuel Power Pump Complex. The main active ingredients, Di-arginine Malate and Di-creatine Malate, boost the production of Nitric Oxide in the body during exercise. Improved Nitric Oxide production helps deliver nutrients around the body more efficiently during a workout. The additional added ingredients aim to increase muscle recovery, fight fatigue, enhance stamina, and promote muscle hydration. The lack of beetroot in this product is a concern as beetroot is a powerful Nitric Oxide enhancer.
Dosage
The manufacturer recommends that adults consume 6 tablets with 12 – 20 ounces of water 30 minutes before exercise. Additional tablets can be consumed for improved results, however, the manufacturer suggests taking no more than 9 tablets per day. This product provides a sufficient dose of its key ingredients that can prove beneficial for an enhanced workout.
Possible Side Effects
Consumers that suffer from hypotension, or low blood pressure, should be wary of using Nitric Oxide supplements. Possible side effects can include dizziness, nausea and post-workout fatigue. In extreme doses, these supplements can prove harmful to a user's kidneys. Sticking to the recommended dosage will minimize the risk of side effects.
Price
This product can be purchased online through third-party sites such as Amazon. A 180-tablet bottle of this product can be bought from Amazon at a reduced price of $49.10. This saves you $4.35 from the listed price of $50.45, which is not a substantial saving. Even with the discount included, this price is significantly higher than alternative Nitric Oxide supplements. Each bottle will last up to 30 days when used as recommended. The prolonged use of this product could become extremely expensive.
Guarantee & Feedback
The online retailer offers a 30-day money-back guarantee on this product when purchased through Amazon. This guarantee indicates the retailer's confidence in the product to produce desired results. The manufacturer does not provide detailed information regarding the return policy. Therefore, it is difficult to determine how seamless this process would be. Mixed reviews suggest that this product's ability to deliver optimal results is largely dependent on individual tolerance and reaction. Consumers should consider this before making a purchase. Consumers may require individual testing of this product before deciding on prolonged use.
Our Conclusive Review About Twinlab Nitric Fuel
This product provides key ingredients that are common to many Nitric Oxide supplements. These ingredients provide a number of benefits for improved exercise performance. The product is supported by a money-back guarantee. However, mixed reviews suggest that optimal results depend on individual tolerance and reaction. The steep price for this product means that prolonged use would become extremely costly. These are a few reasons why we cannot recommend this product as an effective Nitric Oxide supplement for improved workout performance.
Bringing you top reviews and product analysis - Consumer Advisors.