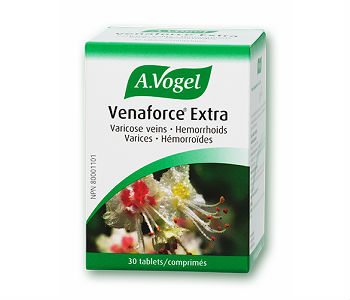 User Ratings (

0

Votes)

0
Do you suffer from varicose veins? Varicose veins, sometimes also called "spider veins" because of the way they look, can become a real problem as you get older. When the vein walls get weaker, they bulge outward as the blood flows in the veins. This make the veins look larger and twisted. Without treatment, they can even cause internal leg bleeding or other serious vein issues, which might require surgery to fix. If you're worried about having surgery, though, don't be: there are a lot of products and supplements out there that can help you treat varicose veins. There are so many products, in fact, that it's hard to tell which products are the good ones and which ones are bad. Let's take a look at A.Vogel Venaforce Extra so that you can make an informed decision.
Ingredients
A.Vogel Venaforce Extra uses these ingredients:
Microcrystalline Cellulose
Colloidal Silicon Dioxide
Corn Starch
Methacrylic Acid Copolymer
Soya Polysaccharides
Triethyl Citrate
Of these ingredients, only the horse chestnut has an actual effect on your veins. (It's used to promote healthy circulation.) The rest of these products are mostly just to make the capsule itself, or used as fillers.
Dosage
The makers of A.Vogel Venaforce Extra suggest taking one capsule every 12 hours. The capsules should be taken with food and water.
The manufacturer warns against taking A.Vogel Venaforce Extra for more than 6 weeks.
Possible Side Effects
The only actual side effect that the manufacturers warn against is intestinal discomfort if you take the tablet without food. However, they do have an extensive list of conditions that, if you suffer from, you should talk to your doctor before taking this supplement. These are: pregnancy, breastfeeding, impaired heart, impaired kidneys, impaired liver, any blood disorder, or if you're currently on blood thinning medication. Also, if your symptoms worsen or any new symptoms occur, stop using this product and contact your doctor.
Price
One 30-tablet bottle of A.Vogel Venaforce Extra can be found for $27.99. 30 tablets should last for 15 days at the recommended dosage, making this one of the more expensive supplements for varicose vein treatment.
Guarantee
A.Vogel, the makers of Venaforce Extra, do not offer a money-back guarantee or refund policy for this product. Of course, if you buy it from another retailer, they may have their own policy's, but it's worth noting that the manufacturers of this product will not give refunds. This should worry you, because this is one of the more expensive treatments on the market, so the fact that they don't offer refunds if you aren't satisfied is a red flag.
Our Conclusive Review About A.Vogel Venaforce Extra
A.Vogel Venaforce Extra doesn't look like a very good product. Of all the ingredients that they list, only one of them actually does something to fight varicose veins, with the rest of them being filler. Even though there's only one active ingredient (that's very common to varicose vein treatments), there manufacturer has put out a lot of health warnings for this product, which might make you wonder what else is in it. Additionally, it's one of the most expensive varicose vein treatments we've seen, and the makers don't offer any kind of guarantee on the product. (Maybe it's just a money grab? Who knows?) Overall, we'd have to say that you should pass on A.Vogel Venaforce Extra and try something else.
Bringing you top reviews and product analysis - Consumer Advisors.