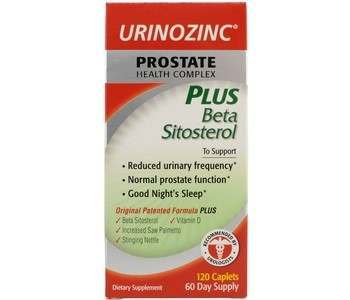 User Ratings (

0

Votes)

0
Are you one of those affected by the discomfort of prostate problems? Read our comprehensive Urinozinc review and find out if this product is the key to keeping your prostate healthy.
Urinozinc Original Formula is a dietary supplement that is designed to help improve the general health of the prostate gland, as well as urinary frequency and flow in men. It is said to be formulated by medical nutrition experts and features natural ingredients that help maintain the health of prostate and decrease the symptoms that often accompany an enlarged prostate.
Ingredients
This product contains 9.4 mg of zinc. This mineral plays a vital role in various physiological functions and is found in large concentrations in a healthy prostate. It plays an important role in catalytic activity of many enzymes, plays a vital role in protein synthesis and keeps the size of organs in normal proportions. Saw palmetto is a plant that has been linked to keeping the prostate healthy although the exact science behind it is not entirely clear. In addition, this product contains pumpkin (seed). Pumpkin seed has also been linked in keeping prostate size in check as well as maintaining other urinary functions. However, some studies concluded that in order to fully justify the inclusion of pumpkin seed, further research must be done. The rest of the ingredients like Vit. E, B, B12 and folic acid work by regulating cellular activity in the prostate.
Dosage
The recommended dosage for this supplement is one capsule two times a day. There is no indication regarding timing of taking the capsules or whether they should be taken with food.
Price
The price of Urinozinc will greatly depend on where you purchase it. As of the time of our review you could purchase it at Amazon, Kmart and Walmart for $29.99, $14.99, and $9.97 per bottle (60 capsules) respectively.
Guarantee and Feedback
Although the product's website states that Urinozinc comes with a 100% money-back guarantee, there are no details given about this policy — for example, how long you have to return your purchase and whether they accept opened bottles, which are pretty basic to understanding the financial risks (or lack of them) in trying the product.
At the time of writing 68 Amazon customers had posted product feedback with an overall poor positive to negative rating ratio of 62% to 28%.
Our Conclusive Review About Urinozinc Original Formula
In reviewing this product the very first thing that catches our attention is the fact that this product is notably less expensive compared to other similar items. It also seems to have ingredients needed to maintain or promote a healthy prostate. However, it's relatively high number of negative ratings on Amazon (and relatively low number of positive ratings) does cause us concern about its effectiveness. In addition, the lack of details regarding the return/refund policy make it difficult for us to recommend this product.
Bringing you top reviews and product analysis - Consumer Advisors.