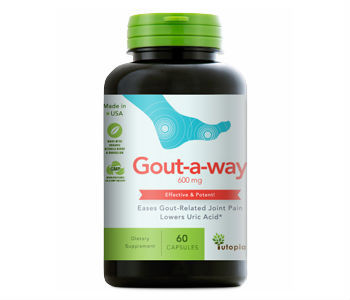 User Ratings (

0

Votes)

0
Gout-A-Away, manufactured by Utopia Nutrition, is made from carefully selected ingredients and formulated solely for the purpose of gout treatment. This is an organic supplement, which means that it is used with ingredients that are clean, safe, and grown without the use of pesticides and toxic chemicals, which can be harmful for the body in ways more than one. Aside from the elimination of joint pains, the supplement will also be helpful in the reduction of the level of uric acid that is present in your body. With this, you do not have to worry about excessive uric acid and its crystallization as the supplement claims to do an effective job in fighting gout attacks.
Ingredients
Vitamin C: This product contains powder of acerola berry that has been grown organically. As an excellent source of Vitamin C, it is also known for having free-radical busting anthocyanin, which is basically responsible for the reduction of the possibility of inflammatory flare-ups, such as in the case of gout attacks.
Powder of Dandelion Root: Dandelion is considered to be an excellent purifier for the blood. It helps in the removal of impurities in your system and have it excreted to prevent gout.
Powder of Celery Seed: One of the main functions of celery seed is the stimulation of the kidney, which will result into the flushing out of uric acids and crystals. It will help to maximize the urine output of the body to get rid of too much water.
Powder of Shiitake Mushroom: By having purines, which are natural-occurring compounds found in shiitake mushrooms, this ingredient will help to get rid of the excess accumulation of uric acid. It also effectively aids in the prevention of kidney stones.
Powder of Pineapple Fruit: This ingredient is high in Vitamin C, manganese, and copper, among others. It also contains an enzyme that is called bromelain, which has been proven to be effective in the reduction of inflammation. Also, it is a rich source of protein, which prevents the build-up of uric acid in your blood.
Other Ingredients: Aside from those that have been mentioned above, Gout-A-Way also contains powder of brown rice, pullulan, and Nu-Flow rice concentrate, all of which have been grown organically as well.
Dosage
As recommended by the manufacturer, one capsule should be taken daily after a meal.
Price
If you buy the supplement online, it is priced at $28 for one bottle. Each bottle will be good for two-month supply, which means you have to pay $14 for one each month.
Guarantee
It is important to note that this product is made with the use of ingredients approved by the FDA and it is manufactured in a certified facility. However, the manufacturer does not accept returns of the product and will not offer you any refund if in case you are unhappy with the results.
Conclusion Of Our Utopia Nutrition Gout-a-Way Review
With its reasonable price and the fact that it is made with the use of organic products, Gout-A-Way seems like a good catch. However, shiitake mushroom, one of its main ingredients, is still in its infancy with regards to research proving how it helps in relief for gout symptoms. There are other products with other ingredients that have been proven to be highly effective for gout.
Bringing you top reviews and product analysis - Consumer Advisors.