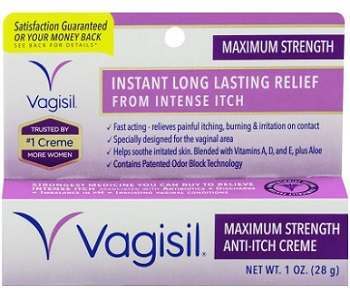 User Ratings (

0

Votes)

0
Women throughout their lives are bound to suffer at some point from vaginal itching. Itching around the vaginal area can be caused by sweat or exposing the vagina to irritants. Feminine hygiene pads or tampons can often be a cause of irritation. Feminine sprays, douches, and topical contraceptives are also very common chemical irritants that may cause itching and discomfort. Some topical creams and ointments may provide temporary relief from itching. Before using a cream or topical ointment, you should always make sure with your health provider that you are not suffering from a yeast infection or something more serious like an STD. In this review, we will look at the ingredients and effectiveness of Vagisil Maximum Strength Medicated Anti-Itch Crème.
Ingredients
This product contains Water,Mineral Oil,Cetyl Alcohol,Propylene Glycol,Glyceryl Stearate,PEG-100 Stearate,Isopropyl Palmitate,Aloe Barbadensis Leaf Extract,Tocopheryl Acetate,Retinyl Palmitate,Zea Mays (Corn) Oil,Cholecalciferol,Lanolin Alcohol,Fragrance,Methylparaben,Carbomer,Isopropyl Myristate,Isopropyl Stearate,Sodium Sulfate,Triethanolamine,Trisodium HEDTA,Maltodextrin.
These are not natural ingredients, so the risk of side effects such as irritation are higher.
Dosage
The label states to apply a fingertip amount (approximately 1-inch strip) to affected area, not more than 3 to 4 times daily. Clean the nozzle of the tube by wiping thoroughly before replacing the cap. They also clearly state that you should not use this product for more than 7 days.
Possible Side Effects
Some people may be sensitive to the ingredients in this cream. Side effects may include burning, stinging, increased itching, tenderness, redness, and swelling. Always consult your doctor before using any creams or supplements.
Guarantee & Feedback
On one third party website, we found a 90-day return policy. This may include opened product as well. On Amazon, we did not find a refund policy from the company. Always use caution when purchasing from companies that do not have a clear return policy to the manufacturer.
We found quite a few reviews for this product on Amazon, the majority of which were positive. However, we did find quite a few mixed reviews too.
Our Conclusive Review About Vagisil Medicated Anti-Itch Creme
Suffering from vaginal itching is a pretty uncomfortable and awkward situation. It can be caused by many things including tight clothing, laundry detergents, sweat, soaps, and creams. If you are looking to relieve itching in your vaginal area, then Vagisil Medicated Anti-Itch Creme might provide some temporary respite. This cream also contains a patented odor block technology to help prevent odors from your vaginal area. After thoroughly reading customer reviews, we can say that there are mixed results regarding this product. Some women reported a reduction in itching, while others said they felt no difference. Additionally, if the burning and itching sensations are caused by chemical irritants then using a cream that is made with strong chemicals may cause your symptoms to get worse. If the cause of your itching is a yeast infection, then this cream will only mask the symptoms. We recommend using a more natural, gentle type of product especially for sensitive and intimate parts of your body.
Bringing you top reviews and product analysis - Consumer Advisors.