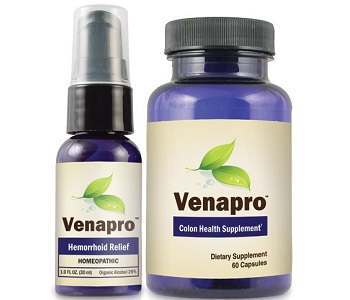 User Ratings (

0

Votes)

0
Venapro is a remedy for hemorrhoids, a problem that is believed to affect as many as 3 in every 4 Americans in their lifetime. This product relies on the principles of the alternative form of medicine known as homeopathy. This is actually not just a single product because it comprises of a spray and supplement. Its manufacturer says the ingredients contained therein have been used in tackling the problem of swollen anal or rectal veins since the 1700's. The product deals with swelling, pain, itching and bleeding that may accompany hemorrhoids. It has supposedly been featured in popular media. Find out from our Venapro review whether this product is one you should spend your money on.
Ingredients
The Venapro oral spray formula contains ingredients that are based on principles that are considered the standard for homeopathic and clinical practice. The list includes:
Horse chestnut (Aesculus hippocastanum) 1X
Arnica, also known as Leopard's Bane (Arnica montana) 3X
Fluoride of lime (Calcarea fluorica) 9X
St. Mary's thistle (Carduus marianus) 1X
Stone root (Collinsonia canadensis) 3X
Witch hazel (Hamamelis virginiana) 1X
Muriatic acid (Muriaticum acidum) 6X
Krameria Mapato (Ratanhia) 3X
26% Alcohol
Purified water
The supplement contains the following ingredients:
Daily vitamin E acetate – 20 IU
Vitamin E – 100 IU
Zinc (as zinc oxide) – 5 mg
L-Arginine hydrochloride – 100 mg
Horse chestnut (standardized to contain 20% naturally occurring silica) – 100 mg
Oat straw (stalks) – 75 mg
Plantain leaf – 75 mg
Cascara Sagrada root – 60 mg
Bilberry fruit – 50 mg
Butchers broom – 40 mg
Mullein leaf – 25 mg
Cayenne fruit – 15 mg
Red sage leaf – 15 mg
Other ingredients in the Venapro supplement are gelatin, purified water, and sodium lauryl sulfate.
Horse chestnut works on the lower bowels to deal with swollen veins as well as any associated pain. In addition to controlling enlarged veins, fluoride of lime fights itching, bleeding piles, and back pain. St. Mary's thistle, stone root, witch hazel and muriatic acid help to control itching, pain, and aches as well as other symptoms.
Dosage
Users who are 12 years or older are to spray the oral spray twice under the tongue three times daily, while those aged 2 to 12 should only spray one spray under the tongue three times daily. You need to consult a doctor before using the spray on a child younger than two years. Adult users should take a capsule of the supplement twice a day with lots of water.
Possible Side Effects
We didn't come across any mention of side effects for this product when used appropriately. Pregnant women, nursing mothers and those taking certain medications should consult a doctor before use.
Price
We didn't see any mention of how much this costs on the manufacturer's website. We did see an offer of 1 free bottle, but the attached conditions were not known. In order to purchase the product, and find out the price, you first have to fill in a form with all your personal information.
Guarantee
Venapro comes with a 90-day money back guarantee. But this applies only to unopened, unused products.
Conclusion of Our Venapro Review
This product seems to be a decent one for fighting hemorrhoids. It contains well-known ingredients, has supposedly been featured in the media, and comes with a money-back guarantee. However, the guarantee applies only to unopened items. It is also unfortunate that the price of this product is not provided on the website, and the only way to find out is to first fill in your personal information.
Bringing you top reviews and product analysis - Consumer Advisors.