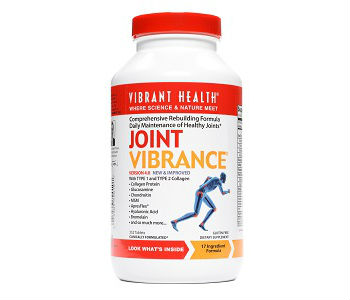 User Ratings (

0

Votes)

0
Vibrant Health Joint Vibrance does not come in capsule form – it comes as powder that you can mix with other liquids. It contains 21 ingredients and has so far received many positive reviews. It seems to be a very complete supplement – aimed at those who suffer from stiff and sore joints. The manufacturer explains the ingredients very well by telling you what each of them does to your body. This product is worth a try.
Ingredients
The list of ingredients for Vibrant Health Joint Vibrance is very long and quite impressive. It is a combination of herbs, minerals and vitamins:
Vitamin C – 100 mg
Calcium – 150 mg
Iron – 1 mg
Magnesium – 50 mg
Zinc – 10 mg
Manganese – 5 mg
Sodium – 53 mg
Potassium – 200 mg
Type 1 Collagen – 8600 mg
Type 2 Collagen – 1500 mg
Glucosamine HCL – 1500 mg
Chondroitin Sulfate A – 1000 mg
Hyaluronic Acid – 264 mg
Other glycosaminoglycans – 120 mg
Silica – 3 mg
Boron – 3 mg
MSM – 1000 mg
Boswellia Serrata Extract – 100 mg
Turmeric Root Extract – 100 mg
Bromelain – 100 mg
Grape Seed Extract – 25 mg
Natural Orange-Pineapple flavor – 646 mg
Citric Acid – 534 mg
Sunflower Lecithin Powder – 100 mg
Stevia Extract – 70 mg
The list is very long, but some of the ingredients are only added to improve the taste. Like the citric flavors. Some people might prefer a pill or capsule, so the fact that this only comes in powder form, may not be a good thing.
Dosage
It is recommended to take one scoop (one serving) per day. You can mix it with water, milk or juice. But if you take this as treatment, you can increase the number of servings per day to two scoops.
Price
One bottle of Vibrant Health Joint Vibrance contains about 21 servings, and costs 49.94USD. So it is not enough for a whole month.
Guarantee
You get a 90 days money back guarantee from the date of purchase. It is much better than the guarantee offered by other products.
Conclusion Of Our Vibrant Health Joint Vibrance Review
Vibrant Health Joint Vibrance is a good product that combines the power of clinically proven ingredients to improve joint health. It also has a combination of collagen sources for pain, inflammation or achy joints. If you do not like the face that it comes in powder form, there are other products on the market you can alternatively buy.
Bringing you top reviews and product analysis - Consumer Advisors.