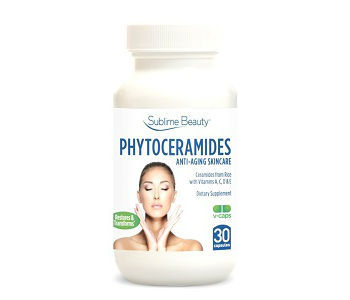 User Ratings (

0

Votes)

0
In the human body, ceramides can be found. Actually, the waxy molecule lipids found in skin layers are ceramides. These help in tissue retention of water for the maintenance of hydrated skin. In addition, skin elasticity is also preserved by ceramides to maintain its looking youthful and smooth. As people age,  they lose ceramides. With this occurrence, it starts the onset of dryness, skin damage, wrinkles and fine lines. The process of aging is in actuality the loss of skin layer ceramides content.
Phytoceramides are the newest products of anti aging in the markets. The most apparent difference with a product line such as this is that this is one that actually may work. One 2010 study used the extract of wheat oil to meet objectives. The study was twelve weeks long and revealed a significant increase in the hydration of skin and improve redness, roughness, squamae and itching conditions.
Folks have been seeking the youth fountain for ages. Anything to reverse the process of aging. There are little available options short of intensive surgical procedures. Until phytoceramides, that is. These offer the latest treatments for anti aging and promise a more youthful, healthier look. The good news is that there is scientific data to prove that this is the case.
With data like this, there are phytoceramides product treatments flooding the market with products like Aveya that claim to reverse aging and keep you looking more youthful. With all the options, make sure you choose the right product for you that actually works.
Ingredients
Different ingredients are in different Phytoceramide brands. Some contain ingredients that are homeopathic. Others contain all natural ingredients and still others use herbal remedies. One thing is clear- there are a myriad selections in the store.
The contents of Sublime Beauty Phytoceramides include:
Vegetable cellulose
30 IU Vitamin E
400 IU Vitamin D
60mg Vitamin C
5000 IU Vitamin A
Dosage
The dosage recommendation for Sublime Beauty phytoceramides includes taking one daily capsule with a glass of water.  For this product, there are no reported side effects. On the other hand, just like all treatments, supplements or medication, you need to consult your physician before using.
Price
From one site to another pricing varies for this product. During this product review writing, the price for thirty capsule or one month's equivalent was $28.99.
Guarantee
The manufacturer's website states that there is a one hundred percent satisfaction guarantee for this product. However, with regard to what terms the guarantee will be given, there is no information. In addition, there is no information that has to do with returning this item.
Conclusion Of Our Sublime Beauty Phytoceramides Review
Sublime Beauty Phytoceramides Review may be a good product for some folks. On the other hand, based on this product review, it's not good as it is said to be. It is not FDA cleared.
Bringing you top reviews and product analysis - Consumer Advisors.