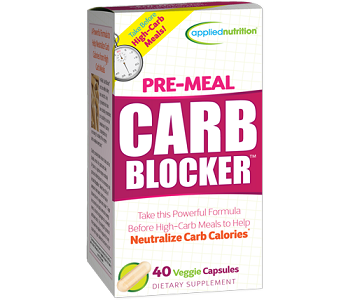 User Ratings (

0

Votes)

0
Today we review Pre-Meal Carb Blocker by Applied Nutrition. Being fit and healthy not only makes us look good but it also makes us feel good. One way to become healthy is to lose the extra weight that puts your body at risk for various illnesses like heart disease or diabetes. The Pre-Meal Carb Blocker supplement claims to help one lose weight by slowing down the breakdown of carbohydrates, therefore, limiting the amount of starch absorbed by your body. If your body absorbs fewer calories then it will also store fewer calories as fat. If this product interests you and you want to find out more, then read our review below.
Ingredients
This product contains 1000 mg of White Kidney Bean Extract. White Kidney Bean extract has been known to help people lose weight by suppressing their cravings. This ingredient is also packed with nutrients such as vitamins, minerals and antioxidants which help in keeping your overall health at its peak. White Kidney Bean extract also helps to keep your heart healthy and it is packed with fibre which helps to speed up your metabolism.
Dosage
It is recommended to take 2 pills twice a day, preferably before you eat big meals or before you eat starchy snacks. The capsules should be taken with a full glass of water and it is also recommended to combine these capsules with a low-calorie diet and exercise for optimum results.
Possible Side Effects
A doctor should be consulted before you take this product if you are using any medication. Don't use this product if you are pregnant or planning on becoming pregnant as some of the ingredients have been known to cause birth defects.  Do not take more than 4 capsules a day and do not use this product if you are not 18 years or older.
Price
You can buy this product directly from the manufacturer's website. It will cost you $12.99 for a bottle of 40 capsules. If your order is over $50.00 you will receive 10% off and if your order is over $100.00 you will receive 15% off at checkout. This price is competitive when compared to similar products but it is a shame that there are only 40 capsules per bottle. If you buy this product from Amazon you will only pay $9.99.
Guarantee & Feedback
Unfortunately, we could not find any sign of a guarantee on the manufacturer's website. They do state in their disclaimer that they make no warranty that the quality of their products will meet your expectations. However, if you buy this product from Amazon then you will have a 30-day money back guarantee. We could not find enough reviews on Amazon regarding this product to get a conclusive idea about what people's experiences are after they have used it.
Our Conclusive Review About Applied Nutrition Pre-Meal Carb Blocker
We like that this product's dosage is optimal and will have the best chance of providing you with optimal weight loss. We also like that the ingredient in this product supports your overall health and wellbeing. However, we are very concerned about the lack of a guarantee on the manufacturer's website and we feel this reflects poorly on the confidence that they have regarding this product. We also feel that only 40 capsules per bottle are not enough if they prescribe 4 capsules to be taken daily.
Bringing you top reviews and product analysis - Consumer Advisors.