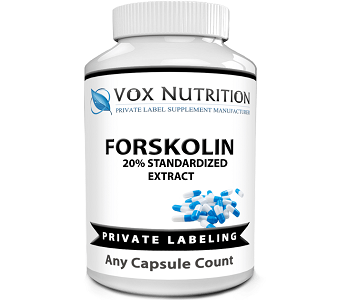 User Ratings (

0

Votes)

0
Today we review Forskolin by Vox Nutrition. Forskolin helps to utilize stored fat for energy thereby helping you to lose weight. This product contributes to a healthy body composition and it helps to boost your metabolic rate. This helps you to burn fat and also keep your body from forming new fat cells. If you have been struggling with your weight, or you just want to look and feel your best then this product might be able to help you. Over 75% of adults in America are overweight. Obesity can lead to heart disease, high cholesterol, strokes and a low quality of life.  To find out more about this product, read the rest of our review below.
Ingredients
The main ingredient in this product is Forskolin, derived from a plant in the mint family. The secondary ingredients include cellulose and rice flour. Forskolin also supports heart health and allergy control. This product does not mention if it is vegan-friendly or cruelty-free, and it also doesn't mention if artificial colorant, dye or binders have been used in this product.
Dosage
It is recommended that you take 2 veggie capsules twice a day. For best result take the capsule 20-30 minutes before a meal with a glass of water.
Possible Side Effects
Do not exceed the recommended dosage prescribed on the bottle or by your healthcare provider. Pregnant, nursing, individuals under the age of 18 and people taking prescription medication should consult a doctor before taking this supplement. There are no negative effects associated with this product, but if you experience any adverse reactions stop taking it immediately.
Price
Unfortunately, we could not find a price for this product. The manufacturer's website only states that you can call them for a quote and that they do currently have stock. We also could not find this product on Amazon, suggesting that you can only buy this product from the manufacturers. The little information available does not boost our confidence in this product and its abilities.
Guarantee & Feedback
Unfortunately, we also could not find any guarantee relating to this product. The means that the customer has to carry all the risk when buying products from this manufacturer. We feel that a lack of a solid guarantee shows that the manufacturer is not confident in this product and therefore neither are we. No feedback or customer reviews could be located. Normally if a product works well, people want to share their experience but maybe that wasn't the case when it comes to this product.
Our Conclusive Review About Vox Nutrition Forskolin
We like that this product has an active ingredient that claims to help with weight loss and overall health. We also like that the capsules are relatively easy to swallow and that you can decide how many tablets you would want to purchase with every bottle. However, we are very disappointed with the lack of information provided by the manufacturer when it comes to the important facts regarding this product. A lack of a solid guarantee also makes us wary of the quality of this product, causing us to question if it actually works.
Bringing you top reviews and product analysis - Consumer Advisors.