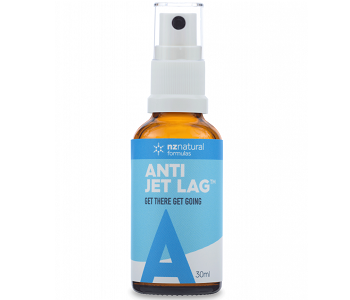 User Ratings (

0

Votes)

0
Not much is actually known about the effects of homeopathic medicine in the west and in fact some scientists disagree that it has any real working at all. That may be, but adherents of alternative botanical formulations swear by the gentle corrective effect on the body. These remedies are not designed to ease symptoms, but to actually simulate them on a very minute level so as to stimulate the body into a self-healing response.
Today, we review one such alternative remedy for jet lag called Anti Jet Lag. Jet lag or travel sickness comes about when the body's circadian rhythms are upset. These are controlled by the pineal gland which secretes melatonin, the sleep hormone. The body also responds to external stimuli such as light and dark. Your internal clock is thrown into disarray when you arrive at your destination city expecting mid-afternoon, only to find it to be dusk and time for supper. As a result, you may find yourself unable to sleep or more likely, only able to sleep and not wake up properly. Your normal circadian rhythms need to be reset.
Ingredients
We could not find the exact ingredients specified but the normal homeopathic formulation is usually:
Cocculus
Gelsemium sempervirens
In homeopathic remedies, Indian Berry or cocculus is often used to bring about calm because the nervous system impacts the body's ability to sleep, and therefore to be productive when awake. It is used to restore the body's internal balance and to fight fatigue and nausea. Nux vomica does the same thing. Gelsemium sempervirens combats the effects of the extreme drowsiness associated with jet lag.
Dosage
The product is formulated as an oral spray and is suitable for all ages. Use one to two sprays throughout, and more if needed when you land. If you are on a long flight, take four sprays under your tongue every two to three hours to prevent jet lag.
Possible Side Effects
There should be no negative side effects but if you have completed the bottle and your symptoms persist, you should see a medical practitioner. It may be that you also have other underlying factors such as stress and anxiety.
Price
A 30ml bottle costs $25 on the product website. The shipping is free.
Guarantee & Feedback
The only feedback we could find was on the product website itself. There are many customers who love the product, stating that they had no problems adjusting their sleep-wake patterns to that of their new time zone.
Conclusive Review About NZ Natural Formulas Anti Jet Lag
As a spray, this formulation is convenient as it should make it through most hand luggage checks, meaning you can use it on the flight as intended. This may not be the case with melatonin tablets. You also don't need to use water to take it. It is also suitable for all ages.
Adherents of the product love it, according to product website reviews but there are a lack of reviews on independent, third-party websites. It is also unclear if this will work for mild cases as well as extreme cases and if it will generally work quickly, because in fact homeopathic remedies are often formulated to work over time. Should the product not work for you, you have no way of getting a return, which is part of the down side. This product is definitely not for you if you are not open to anything that isn't mainstream alternative or if you don't like ayurvedic medicine. In that case, it is safest to go with a 3 mg daily dose of melatonin as found in many traditional travel sickness remedies.
Bringing you top reviews and product analysis - Consumer Advisors.