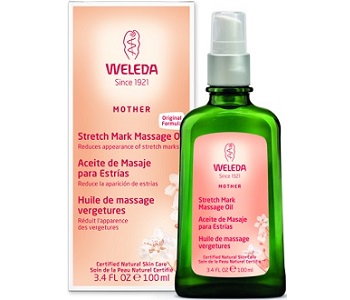 Quality of Ingredient

7.5

User Ratings (

0

Votes)

0
Unfortunately, stretch marks affect mostly women (although men certainly do get them) as men have more collagen than women. Collagen is what gives skin its firmness, plumpness and elasticity, and it is the reason, for example, that individuals may opt to get collagen injections in their face and other areas. Stretch marks are natural but today's beauty standards have led us to believe this is not so. What is equally as natural though, is the desire to look and feel your best. There are many products that purport to help you get rid of this red or discoloured and slightly raised, angry looking scar. Weleda Stretch Mark Oil is one of them, so in our review today we take a closer look at this product.
Although these marks can be as a result of changing hormones and medication, they mostly happen during rapid phases of growth – typically, during pregnancy. Afterwards, the skin contracts but loses its elasticity and smoothness. The result is inner thigh, buttock, hip, breast and stomach stripes, but they can also occur elsewhere. The aim of Weleda Stretch Mark Oil is to support skin during pregnancy, and to leave it smooth and supple afterwards.
Ingredients
Prunus Amygdalus Dulcis Oil
Simmondsia Chinensis Seed Oil
Triticum Vulgare Germ Oil
Parfum
Arnica Montana Flower Extract
Limonene
Linalool
Citronellol
Geraniol
Citral
Eugenol
Farnesol
Weleda contains a number of essential oils. Arnica oil is used to soothe skin and fight inflammation as a result of bruising. Prunus Amygdalus Dulcis Oil is sweet almond oil. It is vitamin-A rich, fully absorbed and deeply nourishing. It helps to dislodge debri from deep in the pores so has a smoothing action on the skin. Simmondsia Chinensis Seed Oil is jojoba oil, another deeply nourishing oil. It is like sebum in that it moisturizes skin, and is often used to treat acne because of its anti-scarring properties. Citronellol is rose oil and provides a natural scent as does lavender (linalool).
Dosage
Use from the beginning of your pregnancy, and massage it into your skin 2 to 3 times daily. It is safe enough to use during breastfeeding. Use until your breastfeeding period is over. Massage it in in circular movements.
Possible Side Effects
Weleda says its product is dermatologically tested. It is free from irritants. However some oils will irritate hypersensitive skin. Discontinue use if this happens and consult a doctor.
Price
A 3.04 ounce bottle sells for $22.50 on the Weleda website. There are no bulk buying discounts. If you buy for over $50 you will receive a free gift and free shipping.
Feedback & Guarantee
You must have returned the massage oil within 30 days of purchasing it if you were not satisfied with it, or if you feel it was a damaged product. There are no consumer reviews for this product on the Weleda or Amazon websites.
Our Conclusive Review About Weleda Stretch Mark Massage Oil
Weleda can be used during pregnancy and breastfeeding. It is free from artificial preservatives, fragrances, colourants and raw materials derived from mineral oil. The oils used are deeply nourishing and are absorbed deep into the skin for maximum repair, and many contain vitamin A and vitamin E.
That said, the oil is more likely to prevent stretch marks than to diminish it, although there should be an improvement with regard to suppleness and a smoothing out of raised, red areas. The formula probably does not contain enough collagen-enhancing properties, vitamin A, C or E to repair free radicals and stimulate new, healthy skin. It is strange that despite looking to be a deeply nourishing oil, there are virtually no consumer reviews to be found anywhere. This does seem to indicate that the product does not have a wide following, and that very little is known about how well it works in practice.
Bringing you top reviews and product analysis - Consumer Advisors.