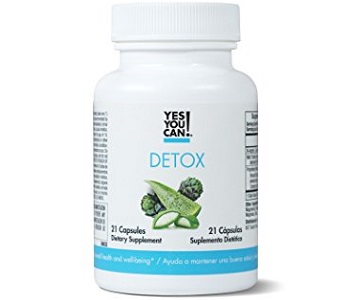 User Ratings (

0

Votes)

0
The body produces toxic chemicals through its own metabolism in times of great stress or after prolonged unhealthy nutrition. Over time these chemicals can build up and cause major damage to various tissues in the body. This can lead to inflammation and other subsequent serious health defects. These chemicals can also leave the affected individual feeling tired and listless. In this review we take a look at a supplement manufactured by Yes You Can!. This supplement is designed to remove the toxic chemicals and promote optimal body function and health.
Ingredients
A key ingredient is aloe extract which has mild laxative effects. These effects help to cleanse the intestine of any toxic substances that may be present there. It also contains antioxidant compounds. The artichoke extract, broccoli extract, milk thistle extract and N-Acetyl-L-Cysteine also have antioxidant properties. Antioxidants reduce the levels of toxic chemicals called free radicals in the body. Free radicals are a result of normal or stressful metabolism but when they build up they can cause major damage to the cells and tissues of the body. This damage can lead to inflammation which can bring about other more serious health defects. The broccoli extract and artichoke extract also contain high amounts of fiber which adds bulk to the stool and eases its passing.
Dosage
Three capsules of Yes You Can! Detox must be taken daily. One should be taken in the morning and the other two should be taken together in the evening.This should be done for seven days. The manufacturer does not provide exact amounts of each ingredient, so it is not possible to tell if the dosage of each is too high or too low.
Possible Side Effects
The manufacturer warns of possible hypersensitivity reactions which include headaches, skin rash or stomach aches. This product has been deemed unsafe for pregnant women breastfeeding mothers or anyone under the age of 18. Individuals with a persistent medical condition should consult a doctor before using the supplement.
Price
A 7 day supply of Yes You Can! Detox is available for purchase online at a cost of $29.99. This price does not include shipping or taxes.
Guarantee & Feedback
Yes You Can! offers a satisfaction guarantee that is valid for 45 days after delivery. This guarantee provides customers with a complete refund if they are unsatisfied with their results.
The manufacturer does not provide a space for any customer reviews. They do present success stories from some individuals who have allegedly used the product, but we don't necessarily consider these to be unbiased external assessments of the product.
Our Conclusive Review About Yes You Can! Detox
Yes You Can! Detox offers all natural ingredients which have a reasonable amount of scientific research to back them up. The supplement is also offered at a fair price.
There are some concerns with this product though. Mainly, they don't provide the specific amounts of each ingredients and their lack of unbiased customer reviews might suggest that the effectiveness of this product is not certain.
Bringing you top reviews and product analysis - Consumer Advisors.