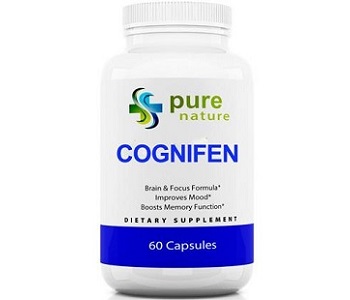 User Ratings (

0

Votes)

0
Want a boost for your brain? Read our review of Pure Nature Cognifen and how its high-quality ingredients come together to help your memory and other cognitive performances. If you are a student and want to retain more information at a faster pace, or have found your memory slipping and need an extra helping hand throughout your day, you may want to try Cognifen.
Ingredients
There are ten ingredients cultivated perfectly to help your brain function. These ingredients are carefully chosen to increase blood flow to your brain, which improves your mood and enhances your cognitive function. Some of the cognitive function that this supplement improves is maintaining the energy your brain uses, keeping you alert and energetic throughout the day. Some of these ingredients also help improve your memory are.
omega 3
vitamin B blend, including B1, B2, B3, and B5.
DMAE
phosphatidylserine
green tea extract
L-carnitine
lipoic acid
choline bitartrate
Ten ingredients seem like a lot, especially when they are all working to help your brain work as efficiently as possible. However, there are other brain-boosting supplements on the market that contain as many as 19 key ingredients, including guarana, which is a slow-release form of caffeine. Caffeine is famously known to help enhance and speed up your brain's functions, and it is a shame this specific brand is lacking guarana. We want to add that the dosage of these ingredients is much lower than other brain-boosting products. For example, for vitamin B1, B2, and B3, some products have over 580% daily value, which is much lower in Cognifen's listed percent daily value.
Dosage
Two supplements are the recommended dosage: one in the morning, and one in the evening with water. This is common with other supplements as well.
Price
One bottle containing 60 capsules costs $49. There are amazing bulk discounts available through the product's website, as well. If you buy two bottles you receive one free and each bottle's price is reduced by $16.34, resulting in just $98. If you buy three bottles, you get three free bottles for $147.
Guarantee & Feedback
A customer has an entire year to return products, even if they are used or empty. This is extremely positive as it is difficult to find a reliable product that has a risk-free guarantee attached to it.
The feedback we read about this product was nothing but positive. There were customers who needed help with their memory, focus or normal cognitive functions and found this product to be extremely useful and effective.
Our Conclusive Review About Pure Nature Cognifen
Cognifen has everything you need to help your cognitive functions, memory, learning, and focus. Its wide variety of ingredients are clinically proven to help boost your brain's activity. However, the lack of guarana as one of the ingredients proves that there are better supplements available that wholly help your brain from its function to helping it respond faster.
Bringing you top reviews and product analysis - Consumer Advisors.