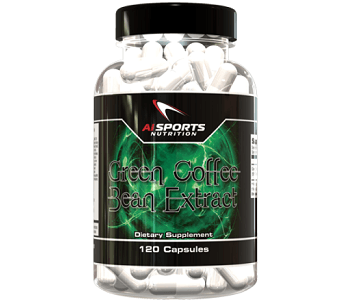 User Ratings (

0

Votes)

0
Green coffee bean extract is a type of diet supplement that aims to help its users lose weight. It also provides other health benefits such as regulating blood sugar levels, supporting cardiovascular health, and providing antioxidants. This is our review of one of these weight loss products called AI Sports Nutrition Green Coffee Bean Extract. This product claims that it contains the highest concentration of chlorogenic acid available. The manufacturer does not provide much more information about what makes this product stand out from the many others on the market.
Ingredients
This product contains 350mg of green coffee bean extract standardized to contain 50% chlorogenic acid. While the manufacturer states that this dosage is potent, the 350mg of extract per serving is one of the lowest we have found available, while the 50% chlorogenic acid is common in other products too. Chlorogenic acid works by increasing metabolism and fat burning. It also slows the release of glucose in the blood which helps to regulate appetite and control eating.
This product contains added ingredients such as rice flour, magnesium stearate, gelatin, and titanium dioxide.
Dosage
The manufacturer recommends taking one capsule one to three times a day, 30 minutes before a meal. It does not state when you would need to take one capsule a day and when you should take three capsules. However, based on the quantity of the ingredients, it seems that taking only one capsule a day will not be very effective.
Possible Side Effects
This product is only geared towards adults over the age of 18. There are no known side effects with taking this product, however, pregnant and nursing women and those with any medical conditions should consult a doctor before taking this supplement.
Price
You can buy AI Sports Nutrition Green Coffee Bean Extract online from the manufacturer's website for what appears to be a very cheap price – $5. One bottle contains 120 capsules. This price makes us seriously question the quality of the ingredients and the effectiveness of the product. However, despite this very low price, the product is currently out of stock, which does not bode well.
Guarantee & Feedback
While it appears that this product does come with some sort of refund policy, the page on the website to view this policy is not working.
We were not able to find many reviews for this product. There were no reviews available on Amazon or iHerb which makes us think this is not a widely used product. The one verified review that we found on Bodybuilding.com stated that this product did not work for them.
Our Conclusive Review About AI Sports Nutrition Green Coffee Bean Extract
This product does not seem to have much going for it. The only positive about the product is that it contains 50% chlorogenic acid. The price is also very low if you only need to pay $5. However, a low price is irrelevant if the product does not actually work. The dosage is low and the one review that we found seems to point to the fact that this product is probably not worth your time. There are other products available that are more proven to provide results.
Bringing you top reviews and product analysis - Consumer Advisors.