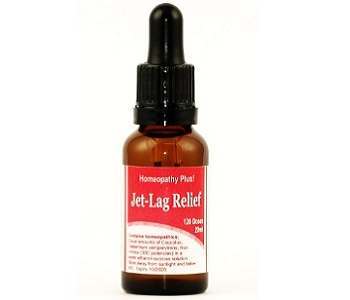 User Ratings (

0

Votes)

0
This is a product review for Homeopathic Plus Jet Lag Complex. This homeopathic product purports to have ingredients that can reduce jet lag symptoms. These symptoms include irritability, weariness, and sleeplessness. Read on to learn more about this product before you decide to use it as a remedy for jet lag and related symptoms.
Ingredients
This product contains:
Cocculus- This ingredient plays a crucial role in dealing with sleep problems (sleeplessness), nausea, and travel sickness.
Gelsemium sempervirens- This ingredient can treat different health conditions including anxiety, migraine, headache, chronic fatigue, exhaustion, stage fright, flu, fever, double vision, vertigo, paralysis, multiple sclerosis, myasthenia paralysis, laryngitis, and tremor.
Nux vomica- This ingredient can cure digestive problems, nausea, heartburn, and bloating.
Dosage
Users are advised to shake the bottle before use. Place about five drops in your mouth. Use once per hour until the symptoms of jet lag disappear then use when needed. You should take a maximum of six doses in a day. One bottle contains one hundred and twenty doses. If your take at least four doses and there is no sign of reduction in the symptoms of jet lag, discontinue use and consult a health care professional for assistance.
Price
The price of one bottle is AUD 24.95. This price does not include shipping charges. A discount of AUD 2.5 is applicable to all bottles whether bought in small or large quantities. Free shipping is available for all purchases over AUD 85.00.
Guarantee
After thorough research, we did not find any information about a money-back guarantee. A guarantee plays a vital role in showing the manufacturer's confidence in a product and convincing doubtful buyers. A money-back guarantee also assures customers that they will receive the full purchase price in case of dissatisfaction. For this product, buyers have to take the risk of buying with no assurance of a refund. In addition, the absence of a guarantee may cause potential buyers to question this product's capability and quality. We are also concerned that there are no customer testimonials for this product. Customer reviews are important because they allow customers to express their experiences. Without customer reviews, it is difficult to know how many users are satisfied or dissatisfied with this product.
Conclusion Of Our Homeopathy Plus Jet Lag Complex Review
In summary, this product is made of ingredients that have the ability to combat the symptoms of jet lag. These ingredients provide a unique formula, which is not common in many of the jet lag treatment products we have reviewed. If you are looking for a suitable jet lag treatment product, it is important to compare its advantages and disadvantages to avoid choosing the wrong product. One of the advantages identified during this review is the affordability of this product. The price is in the range of other products in the market. Moreover, one bottle contains many doses meaning that it can support many users at once. However, this product lacks customer reviews, which help potential buyers to know the experiences of other users. In addition, there is no satisfaction guarantee to show that the manufacturer has confidence in the product. Furthermore, there is no information about the possible side effects.
Bringing you top reviews and product analysis - Consumer Advisors.