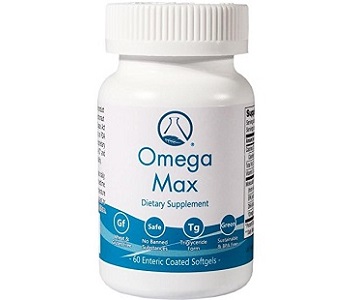 User Ratings (

0

Votes)

0
Below is our review of the dietary supplement Omega Max. This product is manufactured under the trade name AmeriSciences, although the product is also known AS Nugevity. Either way, both these trade names fall under the umbrella company Premium Vitamins and Supplements. It is claimed that this Omega-3 supplement is derived from small fish distilled and purified at molecular level. This action removes any impurities such as dioxin and mercury.
Ingredients
Two capsules contain 4 IU vitamin E, and 2000 mg of molecularly distilled oil which is derived from mackerel, sardine, and anchovy. This dietary supplement provides 720 mg of eicosapentaenoic acid (EPA) and 480 mg of docosahexaenoic acid. Other, inactive, ingredients found in these capsules are gelatin, purified water, glycerin, stearic acid, sodium alginate, pharmaceutical glaze, acetylated monoglycerides, polysorbate 80, potassium sorbate, and vanillin. Omega-3 is especially good for the brain, the eyes, and a healthy heart. This substance helps maintain a healthy weight, even offering some weight loss. Furthermore, Omega-3 is also known to help reduce anti-inflammatory agents. It is useful for people suffering from various types of arthritis. It is, however, unclear whether the gelatin is sourced from beef or from fish.
Dosage
The manufacturer suggests that two (2) capsules be taken daily before sleep, ideally with food. Alternatively, follow the dosage instructions of your health-care provider.
Possible Side Effects
Capsules taken without food, could cause an upset stomach.
Price
Omega Max is available directly from the manufacturer on their website. There are two package deals online. The first is a single bottle, 60 capsules, available at $30.00. The second package deal is for three bottles at $79.00. This is a discounted price, a single purchase price per bottle being $26.33. The company does have a subscription service in which the product will be shipped to the consumer monthly. The subscription service does attract a 5% discount, however. The buyer's credit card will automatically be deducted monthly. This type of service is normally difficult to cancel, despite what the companies state.
Guarantee & Feedback
The manufacturer provides a full money-back guarantee on these product, although shipping fees, handling fees, and service fees are deducted. To qualify, goods must be returned within 30 days of purchase. It is not clear in what condition (used or unopened) the bottles should be returned for a refund. The reviews on this product are lacking. Our research efforts were only able to locate two reviews on Amazon, therefore reviews cannot be used as an objective instrument for measuring this product.
Our Conclusive Review About AmeriSciences Omega Max
Omega Max appears to be an effective Omega-3 dietary supplement. It comes with a full money-back guarantee, and there are two package deals. One deal is a single bottle and the other a bulk offer which includes a discount. There are some concerns, of which one is the formula. Scientific studies have concluded that the optimal amount of EPA should be 800 mg, while this product has only 720 mg per dose; and that there should be 600 mg of DHA, although this formula contains only 480 mg per dose. Therefore there is a deficiency in dosage for optimal results. The guarantee is vague. There is no mention of whether a buyer can test the product before returning it. A 30-day testing period is insufficient.
Bringing you top reviews and product analysis - Consumer Advisors.