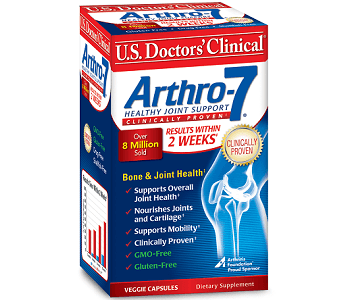 User Ratings (

0

Votes)

0
In this in-depth review, we will take a close look at the product Arthro -7 and give you all the essential information needed so you'll have an easier time deciding if this product is the answer to your needs. This dietary supplement claims to offer many benefits that include relieving joint discomfort,  promoting joint mobility, nourishing the cartilage, supporting overall joint health and delivering fast results in as early as 2 weeks. Aside from that, the product also claims to be 100% drug-free and with no ingredients such as gluten and shellfish.
Ingredients
This product contains Vitamin C and the AR7 Joint Complex. This Joint Complex consists of collagen (from chicken), Cetyl Meriostoleate (CMO), Lipase 30, Methylsulfonylmethane (MSM), turmeric (95% curcumin), and bromelain.
These ingredients claim to promote joint health in different ways. Collagen, CMO, and MSM offer a support to the structures closely associated with joints such as the muscles and tendons. They also keep joints healthy and well lubricated. The other ingredients such as bromelain and turmeric play an important role in reducing joint inflammation. However, the exact amount for each AR7 component is not shown on the product's label nor on the product's website. This makes it almost impossible to know if this product contains the enough quantity of these ingredients to be effective and safe.
Dosage
This product is only recommended for adults. It is advised to take 2 capsules twice a day for one to two weeks. After seeing positive results, you should take two capsules a day for maintenance.
Possible Side Effects
There are only a few rare case of side effects reported but there is not much information available about the safety for long-term use.  Pregnant and lactating women, as well as those who are taking any other supplements or medications, should consult a doctor before taking this product.
Price
A one month supply of this product is available for an online purchase on the manufacturer's website for $49.95 plus $7.95 shipping and handling fee. The product also comes with discounts for multiple purchases. You can purchase a 3-month supply for $99.90, plus $12.95 for shipping, which will save you $75 and you will get a free booklet about joint mobility and flexibility and a free topical cream.
Guarantee & Feedback
This product comes with a 60-day money back guarantee minus the shipping and handling fee. However, you are only allowed to return one opened bottle from your purchase, all the rest of the bottles must be unopened for you to be able to get your refund. The product comes with positive reviews on Amazon, with an average 4-star rating.
Our Conclusive Review About US Doctors' Clinical Arthro-7
The product seems to offer many joint benefits, plus it also comes with a reliable money-back guarantee. However, the long-term effects of taking this product has not been investigated well. The product also has not shared the exact amount of the components of the Joint Complex which makes it very difficult to tell if it contains enough of its components.  Although the product's website claims that it has over 8 million bottles sold, it only had a relatively few reviews on amazon with just barely 300 reviews at the time of this writing.
Bringing you top reviews and product analysis - Consumer Advisors.