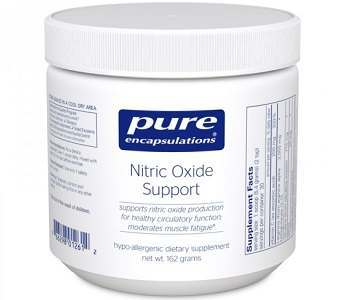 User Ratings (

0

Votes)

0
Everybody knows that exercise keeps you active, fit and healthy, but what you may not know is that nitric oxide, an important chemical compound, is one of the factors necessary for keeping your body in good shape. Since nitric oxide plays such an important role, people are happy to find it in the Nitric Oxide Support, a powdered supplement that promotes the steady production of nitric oxide in the body. This supplement is said to keep muscle fatigue at bay, relax blood vessels, tackle bacteria and viruses, and also ensure optimal blood circulation throughout your body.
Read our Nitric Oxide Support review below to learn about what the product and what it has to offer.
Ingredients
While reviewing Nitric Oxide Support, we found that the product consists mainly of the following active ingredients:
L-citrulline: An amino acid that the body changes into arginine so that the production of nitric oxide occurs optimally.
L-arginine: Another type of amino acid that generates nitric oxide, improves blood circulation in your body and ensures blood vessels are healthy.
Stevia: A flavoring agent and natural sweetener.
Vitamin C: Assists your in fighting off free radical damage and amplifies the effects of L-citrulline and L-arginine.
Nitric Oxide Support is gluten-free and perfect for vegetarians. At the same time, it consists of all the necessary ingredients to make it a safe product.
Dosage
The recommended dosage for this product is one scoop per day, which is equivalent to about 5.4 grams of nitric oxide, mixed with water. Just make sure you consume it 20 minutes prior to your exercise routine. One container of the supplement lasts for around 30 days.
It is best that you stick to the prescribed dosage unless directed otherwise by a doctor.
Possible Side Effects
We could not find specific side effects, but Pure Encapsulations warns people suffering from migraines, depression, herpes, liver and kidney disorders, and autoimmune disorders to avoid taking the supplement. Nitric Oxide Support is also not suitable for people, who have experienced a heart attack in the past.
Price
You can purchase this product online for a retail price of $37.30. We could not find any discount or special deals at the time of writing this review.
Guarantee & Feedback
If you are dissatisfied with the product, or it is damaged, you can return it within seven days of receipt of the package.
Some consumers, who have used the supplement, claim it is a little slow in producing the desired results.
Our Conclusive Review About Pure Encapsulations Nitric Oxide Support
As a result of our review, we feel that Nitric Oxide Support can be helpful during intense workouts, as it helps delivers oxygen to working muscles and hence, protects them from fatigue and damage. Although this powdered supplement can be a little expensive for the average buyer and in some cases, it can time to show visible benefits, it is free from artificial additives, preservatives, and allergens.
Users have stated it is a delicious lemon-flavored drink, so you will have no problem consuming the supplement. However, it should not be used by pregnant women and kids. You should also not be taking this supplement if you happen to have a serious medical condition. However, if you still have doubts, consult your doctor before starting the supplement.
Bringing you top reviews and product analysis - Consumer Advisors.