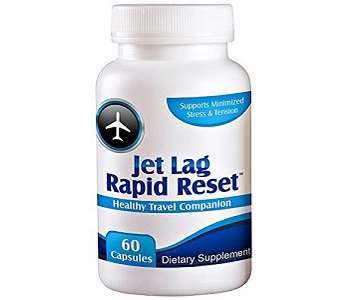 User Ratings (

0

Votes)

0
This product review provides you with detailed information about Jet Lag Rapid Reset. This dietary supplement purports to help air travellers overcome jet lag when travelling across different time zones and overseas. This product also purports to fight sleeplessness by resetting your biological clock. Continue reading this review to learn more about this product.
Ingredients
This product contains:
100 mg of Magnesium (20% citrate and 80% oxide)- This ingredient performs several functions including boosting blood circulation and ensuring normal blood pressure.
200 mg of L-Theanine- It has a calming effect and helps to relief stress.
1 mg of Melatonin- The role of this ingredient is to regulate your biological clock (sleep and wake cycle). It also has antioxidant properties for fighting free radicals that cause damage to your body. Melatonin also ensures a healthy immune system.
50 mg of GABA
50 mg of Phellodendron Root
50 mg of Mucuna Pruriens Extract
25 mg of 5-HTP
Other ingredients include:
Gelatin capsule
Rice
Silicon dioxide
Magnesium stearate
Dosage
The recommended dosage for this dietary supplement is one or two capsules at sleep time. Users can also consult a medical professional for dosage directions.
Possible Side Effects
We did not find any information about the possible side effects of this product. However, based on our extensive research on products that claim to fight jet lag, products that contain melatonin are likely to cause drowsiness. Therefore, users of this product may experience drowsiness because it contains melatonin. Drowsiness prevents people from engaging in risky tasks such as driving motor vehicles or operating heavy machinery.
Price
The price of one bottle containing 30 capsules is $19.95 on Amazon. This cost does not include shipping charges. Free shipping is available for orders above $35. Customers should buy many bottles at once to take advantage of this offer.
Guarantee
The manufacturer of this product is committed to assuring potential buyers that this product can achieve the results it claims to achieve. This committed has been supported with 100 percent money-back guarantee. Customers who are not happy with the product can return it for a refund of the purchase amount. We also sought to know the experiences of customers who have used this product. Based on the number of positive testimonials identified during this review, there is no doubt that most users are satisfied with this product.
Conclusion Of Our Jet Lag Rapid Reset Review
In sum, this dietary supplement contains ingredients that are common in other products that purport to fight jet lag and related symptoms such as sleeplessness. Nevertheless, it is crucial to compare the positive and negative characteristics of this product with those of other products prior to making a purchase decision. The positive characteristics identified during this review include a 100 percent satisfaction guarantee and several positive responses from individuals who have used this product. However, this supplement contains melatonin as one of the key ingredients. This ingredient is likely to cause unwanted side effects like drowsiness. In addition, we did not find any information about how long the manufacturer's satisfaction guarantee lasts from the date of purchase.
Bringing you top reviews and product analysis - Consumer Advisors.