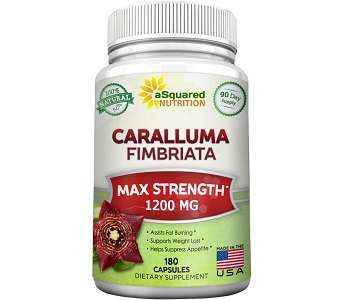 User Ratings (

0

Votes)

0
Caralluma Fimbriata is a cactus plant native to India that has gained fame and popularity by its weight loss benefits. Although many diets and weight loss supplements are just a fad, Caralluma has actually been used by Indians for many years. In ancient times, Indian hunters would chew on Caralluma to suppress hunger pangs while out hunting. They may have also used it to survive during times of famine and drought for its thirst quenching effects. Today, Caralluma Fimbriata is used as an all natural weight loss supplement and as an appetite reducer. The key to getting the best results with this supplement is to make sure you are buying from a reputable company that uses the correct dosage and only high-quality ingredients. In this review of aSquared Nutrition Caralluma Fimbriata, we will look at the ingredients, price, and effectiveness of the product.
Ingredients
The only ingredient is the plant extract Caralluma Fimbriata at a dosage of 120mg. The capsule is vegetarian and is made with cellulose.
Dosage
The recommended dosage is 2 capsules per day which is equal to 1200 mg of Caralluma Fimbriata extract.
Possible Side Effects
Generally, there are no side effects associated with taking this product as it is a natural supplement. However, some people may suffer from mild side effects such as stomach upset, intestinal gas, constipation, and stomach pain. These side effects will usually disappear after a week of use. Always consult your doctor before taking any supplements.
Price
There are 180 capsules per bottle which will last for three months. The price range for one bottle is $29.99 on the manufacturer's website and $24.99 on Amazon. You can purchase this product in bulk from the manufacturer. If you buy 4 bottles at one time you can save 25%, 3 bottles will give you a 20% saving, and 2 bottles will give you a 10% saving.
Guarantee & Feedback
The aSquared Nutrition Caralluma Fimbriata only offers a 30-day money back guarantee on unopened bottles in the complete original packaging. If you are for some reason unsatisfied with the product, you will not be able to get a refund if you have already opened the bottle.
Our Conclusive Review About aSquared Nutrition Caralluma Fimbriata
In this review, we have shown the ingredients, dosage levels, and purpose of this product. aSquared Nutrition Caralluma Fimbriata only uses 100% natural ingredients and their capsules are made with vegetable cellulose and have no other additives. What's really great about the company is the number of servings in one bottle which is great value for money. The weight loss effects, waistline reduction and appetite suppressing benefits of taking Caralluma Fimbriata may actually work for some people. After doing our due diligence reviewing this product, we have found very mixed reviews. On the manufacturer's site there are no reviews, and on Amazon, only half the customers have reported a suppressed appetite. The other half of the reviews have noted that they did not notice any weight loss benefits, and some even experienced heightened cravings at night. Additionally, you can buy one bottle of this product to test it out but they do not offer refunds on opened bottles.
Bringing you top reviews and product analysis - Consumer Advisors.