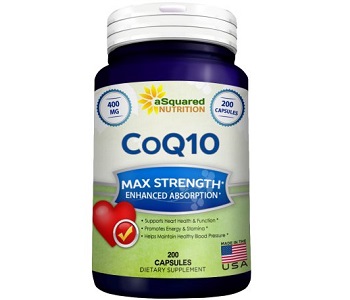 User Ratings (

0

Votes)

0
This Review of aSquared Nutrition CoQ10 aims to provide you with all the necessary information you need to know about this product.
This product is said to supplement you daily with Coenzyme Q10 and is geared towards those individuals who are looking to improve their cardiovascular health, regulate their blood pressure and increase energy as well as their stamina. The manufacturer also advertises this product as one that is able to fight the signs of aging and prevent oxidative damage caused by harmful molecules.
These are the facts.
Ingredients
This product contains one main active ingredient which is 400 mg of Coenzyme Q10, it also contains additional fillers such as rice powder. Coenzyme Q10 is essential for normal functioning organs and while it may be produced naturally by our bodies, as we age these levels start to deplete. Coenzyme Q10 is also responsible for producing cellular energy and protecting cells from free radicals. While this formula seems promising, we are concerned that it contains additional fillers. These fillers are usually synthesized within a lab and compromise the purity and potency of the natural ingredients.
Dosage
The recommended dose is 1 capsule daily or as directed by your doctor and it should be taken with meals for optimal results. This dosage seems significantly higher when compared to other leading brands and may cause adverse side effects.
Possible Side Effects
While the manufacturer has not mentioned any possibility of side effects, research shows that people taking doses higher than 300 mg may suffer from some side effects such as rashes, nausea, abdominal pain, dizziness, sensitivity to light, irritability, headache, heartburn, and fatigue.
Price
There are 200 capsules per container which costs $39.99 for a single bottle online. There are discounts available if you purchase 2 or more bottles which are as follows:
For 2 bottles, you get a 10% discount
For 3 bottles, you get a 10% discount
For 4 or more bottles, you get a 20% discount
This product is available for purchase online directly from the manufacturer or from third-party suppliers.
Guarantee & Feedback
aSquared Nutrition advertises a 30-day money back guarantee but this policy is much weaker in comparison to other leading brands because it does not apply to bottles that have been used. This is a risky policy because it does not give consumers the opportunity to test the product first before returning it if they find they have not seen any measurable results. Based on this policy, we have not been given much confidence in this formula.
Our Conclusive Review About aSquared Nutrition CoQ10
aSquared Nutrition ticks a few of our boxes when it comes to manufacturing standards and price, however, we have a few concerns as well. The manufacturer claims that this product is free of any fillers or binders, however, the supplement fact list clearly states that this product contains rice powder which is considered to be a filler. Another concern we have is that guarantee policy is weak because the product needs to be returned in the same condition it was received in.  while there are a variety of mixed reviews, many have mentioned that the product was ineffective for them. Based on our findings we cannot conclude that this is the best CoQ10 supplement on the market and advise consumers to look for products that do not have additional fillers and have a lower dosage to prevent the risk of suffering from adverse side effects.
Bringing you top reviews and product analysis - Consumer Advisors.