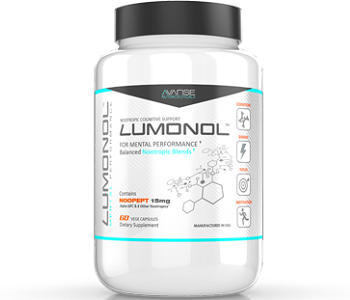 User Ratings (

0

Votes)

0
If you've ever found yourself struggling to focus, easily distracted or are having a hard time concentrating, it may mean that you are in the need for a brain booster. Brain boosting supplements have recently hit the market full force with manufacturer's producing all types of brain boosting supplements designed to help support brain health and function. This Avanse Nutraceuticals Lumonol review is going to take a closer look at the facts and details to learn more about how this supplement works and to see if it's worth trying out for effective results. The manufacturer claims that Lumonol sharpens mental focus, attention and concentration, enhances thinking speed and clarity, improves mood, reduces anxiety and depression and will increase mental energy and alertness.
Ingredients
Focus Blend (Phosphatidylserine, Acetyl L-carnitine, L-Tyrosine, Noopept) – 515 mg
Energy Blend (Panax Ginseng, Hordenine, Guarana) – 430 mg
Memory Blend (Ginkgo Biloba, Alpha GPC) – 170 mg
Other Ingredients: Rice flour, Vege Capsule.
Noopept has high bioavailability and can relieve stress while promoting cognitive health and memory benefits. Phosphatidylserine is a phospholipid that contains amino acids and fatty acids. It has been shown to have the ability to improve symptoms of Alzheimer's disease, can slow down of age-related cognitive decline and can prevent depression.
Dosage
The recommended dosage is taking two capsules daily with a meal. You should not exceed four capsules within a 24 hours period. Make sure to stay hydrated.
Lumonol is not intended for people under the age of eighteen or for women who are pregnant or nursing. You should talk to your healthcare provider if you have any pre-existing medical conditions or are taking any prescription medication. Use only as directed, improper use will not result in improved results and can be dangerous.
Possible Side Effects
We were unable to find any associated side effects. The manufacturer does warn that this product may be too stimulating for who are sensitive to stimulants.
Price
You can purchase Lumonol directly from the manufacturer. One 30-day supply costs $59.97. They also offer the option to purchase a package of three bottles for $119.97.
Guarantee & Feedback
The manufacturer offers a 90-day money back guarantee on opened and unopened bottles. Throughout our research of Lumonol, we were unable to find any consumer feedback. This raise a red flag and suggests to us that this is not a well known or popular product.
Our Conclusive Review Avanse Nutraceuticals Lumonol
Avanse Nutraceuticals Lumonol appears to be a promising brain boosting supplement. It comes in easy to take capsules for convenience and its ingredients have been shown to contain properties that support brain health and function. However, while the ingredients appear to be sufficient, we found this product to be lacking key ingredients that are essential in most brain boosting supplements. This leads us to question whether or not there is enough in this supplement for it to be effective. The price per bottle is expensive relative to others we have seen on the market. Considering that we are unsure about the ingredients, the fact that we weren't able to find any consumer feedback and the expensive price, this product is too risky. You are better off choosing a a brain booster that has effective ingredients and is affordably priced.
Bringing you top reviews and product analysis - Consumer Advisors.