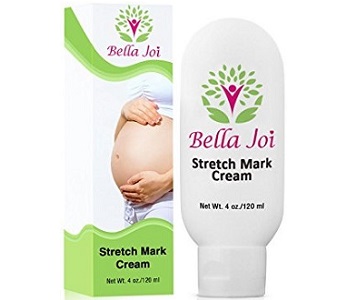 User Ratings (

0

Votes)

0
Today we review Bella Joi's Stretch Mark Cream that is infused with Hyaluronic Acid. Stretch marks can be unsightly and embarrassing for some women. Not feeling content and comfortable in one's own skin can have a negative effect on your day to day living and therefore it is important to look after your skin. Stretch Mark Cream claims to hydrate and brighten the overall appearance of your skin whilst also reducing wrinkles caused by ageing or prolonged sun exposure. Most importantly, this product also claims to prevent and diminish unwanted stretch marks without leaving your skin feeling greasy. If this product interests you, please read our review below.
Ingredients
Ingredients include deionized water, Aloe Barbadensis Leaf Juice, Vitamin C, Rose Hip Seed Oil, Shea Butter, Mango butter, Cocoa butter, Grapefruit Seed Extract, Hyaluronic Acid, Witch Hazel Extract, Vegetable Glycerin, L-Arginine, Jojoba Oil, Phenoxyethanol and Ethyl Hexyl Glycerin. Vitamin C is known to help fight the formation of new wrinkles whilst keeping your skin smooth and soft.  Hyaluronic Acid will help your skin to retain moisture and L-Arginine has amazing antioxidant properties. Glycerin and Aloe Leaf Juice helps to moisturize the skin without leaving it greasy. Jojoba Oil helps stimulate collagen production and Phenoxyethanol is a chemical that is naturally found in green tea and will help your skin retain its glow from the inside out. The Shea, Cocoa and Mango butter absorb deep into the skin for prolonged moisture throughout the day.
Dosage
It is advised that you apply this product to your hips, stomach, glutes, arms and thighs and to rub it into your skin with a circular motion. You can also apply this product with a brush. There is no prescribed daily amount that should be applied to the skin given on the manufacturer's website. Without the right daily amount prescribed for usage, we are not sure how much product you need to apply for effective results.
Possible Side Effects
No side effects are mentioned on this product's website but they do advise that this product should not come in contact with your eyes. If irritation or redness occurs whilst using this product it is advised to stop using it immediately. This product should also be kept out of the reach of children.
Price
This product is currently not being sold directly from the manufacturer's website. They advise you to go to Amazon's website to purchase this product but unfortunately, it is sold out on Amazon. We also could not find other third party sellers of this product so we could not find a price for this product. You can only buy this product in bulk from the manufacturer if you purchase 250 items or more.
Guarantee & Feedback
The manufacturer does not offer any guarantee on this product. We did not find any return policies on the bulk offer as well. The reviews on Amazon regarding this product were varied. A lot of people were unsatisfied and stated that they did not notice any difference in the appearance of their stretch marks.
Our Conclusive Review About Bella Joi Stretch Mark Cream
We love the ingredients used in this product and the moisture they provide for your skin. We also like that this product is relatively safe to use and is sensitive to a lot of different skin types. However, we are very worried about the general lack of information on the manufacturer's website regarding this product. The lack of a good guarantee is also questionable and we cannot compare this product to similar products because we could not find a price for this product.
Bringing you top reviews and product analysis - Consumer Advisors.