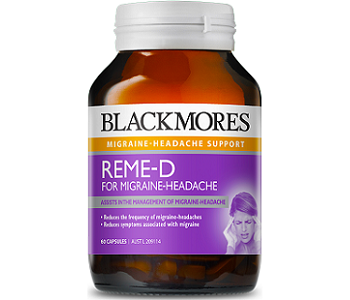 Quality of Ingredient

6.5

User Ratings (

0

Votes)

0
Blackmores REME-D For Migraine Headaches claims to be a supplement that, upon regular use, reduces the frequency of migraine headaches and supports a healthy nervous system. The manufacturer also claims that this product can relieve the symptoms associated with a migraine which include nausea and vomiting. In the following review, we shall assess the potential of this product fulfilling its claims as well as the likelihood of it being the best migraine relief supplement available on the market.
Ingredients
Tanacetum parthenium feverfew
Riboflavin (vitamin B2)
Pyridoxine hydrochloride
Folic acid
Cyanocobalamin (vitamin B12)
Magnesium orotate dihydrate
Feverfew, riboflavin, and magnesium are popular ingredients used in many migraine relief supplements for their effective relief in the severity and frequency of headaches. Pyridoxine hydrochloride is known to affect the development of headaches as well as pain receptors while Folic acid has been known to reduce migraine symptoms. While these ingredients may be effective in relieving the pain and discomfort associated with migraines, the product is missing a dual-action formula which is used by competitor brands to provide more efficient and effective relief. There is no mention if this product is produced in a GMP certified facility, which is unfortunate as that certification can give customers peace of mind that quality was a priority throughout production.
Dosage
When riboflavin is used to support migraines, dosages up to 400 mg are recommended. However, this formula only contains 100 mg. Customers are to take 1 capsule per day. This dosage can be increased to 2 capsules if needed. The manufacturer does not state if a meal is required to take these supplements. For best results, the manufacturer states that you need to take part in regular use over several months.
Possible Side Effects
This product is not recommended for pregnant or breastfeeding mothers and may interfere with a variety of other medications. Be sure to see the manufacturer's website for the exact list. This product contains ingredients from the daisy family of plants and may cause an allergic reaction. The manufacturer also states that if symptoms persist, customers should seek medical attention, however, does not state exactly what the symptoms could be. This is concerning and irresponsible, especially since it is known that side effects from ingredients like feverfew can include an upset stomach, dizziness, nausea, and joint stiffness to name a few.
Price
For a bottle of 60 capsules of Blackmores REME-D, customers can expect to pay $22,28. While there is no bulk offer available, there is a 30% discount on offer with the use of a coupon. However, the product is currently out of stock. We are uncertain as to how long this product will be unavailable for.
Guarantee & Feedback
The manufacturer guarantee is very vague and does not include a returns policy time period or explicitly state that tested products are eligible for a refund. All refunds will be made in Australian Dollars and require all paperwork to be attached. We were unable to find any customer reviews which prevents us from confirming the efficacy of this product.
Our Conclusive Review About Blackmores REME-D For Migraine Headaches
Blackmores REME-D For Migraine Headaches contains many popular ingredients that have been known to be effective in relieving and preventing migraines. However, the efficacy in comparison to competing brands is questionable as this product does not have a dual-action formula for targeted relief. Furthermore, the guarantee is vague and the product was not manufactured in a GMP certified facility. The lack of customer reviews, as well as product availability, support our decision to not recommend this product as a wise choice of migraine relief supplement.
Bringing you top reviews and product analysis - Consumer Advisors.