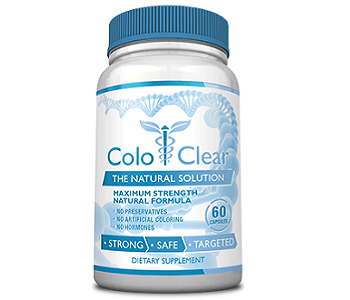 User Ratings (

0

Votes)

0
This is a review of the colon cleanse formula known as ColoClear. This is one of the best colon cleansing products we have ever reviewed because it contains 19 extensively researched ingredients which, according to the manufacturer, are very effective and bioavailable and were produced with the strictest quality standards. ColoClear is a colon cleansing formula that claims to bring about gentle yet effective cleansing, ultimate detoxification and cleansing of toxic waste, balanced pH levels, growth of healthy bacteria, regulation of good intestinal health, stimulation of peristalsis to avoid bloating and constipation, restoration of energy levels, promotion of good metabolism and the promotion of fat burning and weight loss. Read on to find more how ColoClear can be the right product for you.
Ingredients
Here is a list of ColoClear ingredients:
Fennel Seed Powder (Foeniculum vulgare)– aids flushing out toxins from the body and supports general health
Cascara Sagrada (Rhamnus purshiana)— stimulates muscle contractions (peristalsis) within the intestines and assists in defecation
Ginger Root Powder (Zingiber officinale)– deals with constipation and abdominal colic
Senna (Senna alexandrina)– promotes bowel mobility
Rhubarb (Rheum rhabarbarum) root –speeds up metabolism and burns fat
Oat Bran– decreases cholesterol levels and promotes early satiety
Pumpkin Seed (Cucurbito pepo)— anti-parasitic, good cleansing agent
Citrus Pectin– helps eliminate toxins from the body
Buckthorn Root (Rhamnus cathartica)– promotes defecation, burns fat
Licorice Root (Glycrrhiza glabra)— fights off microorganisms that cause infections
Flax Seed Oil Powder (Linum usitatissimum) reduces inflammation, boosts metabolism and energy
Bentonite Clay — eliminates toxins from the body
Cayenne Pepper (Capsicum annuum)– promotes good circulation for efficient delivery of oxygen and nutrients to tissues
Goldenseal (Hydrastis canadensis) contains antibiotic, anti-inflammatory, laxative and astringent properties
Acidophilus–  helps prevent infections in the digestive tract
Acai Powder (Euterpe oleracea)– contains antioxidant properties, fiber and healthy fats
Cape Aloe (Aloe ferox) — acts as a laxative, a soothing and cleansing agent
Aloe Vera — cleanses the colon and detoxifies the blood
Prune (Prunus domestica) juice– aids muscle contractions, maintains healthy bowel function
Dosage
ColoClear should be taken as needed, two or three capsules a day with an 8 oz. glass of water. It should be taken as a dietary supplement and should not be taken for three days in a row.
Price
ColoClear currently has a  BUY 3 GET 3 FREE special promo; this means that the more bottles you buy, the more discounts you have. If you get six bottles, you can buy each bottle for just $23.30. If you get five bottles, you can buy each bottle for just $24.95. If you get four bottles, you can buy each bottle for just $27. If you get three bottles, you can buy each bottle for just $31.95. If you get two bottles, you can buy each bottle for just $34.95. One bottle sold individually costs $49.95.
Guarantee
ColoClear comes with a 60-day guarantee. If you have complaints with the product, you may receive a refund (excluding shipping charges). All bottles, whether used or unopened, must be returned within 60 days for them to be refunded.
Conclusion Of Our Consumer Health ColoClear Review
Overall, ColoClear is a good colon cleansing product compared to other products which have lesser-quality ingredients that may lead to uncomfortable symptoms such as bloating, gas pains and unexplained fatigue after use. It contains contain more effective ingredients than any other product and provides gentle yet effective cleansing at a dose of two to three capsules per day. It also comes with a risk-free, 60-day guarantee. We have found many satisfying and positive reports from the users of ColoClear. If you are looking for a top-notch colon cleansing product, look no more because you have ColoClear!
Bringing you top reviews and product analysis - Consumer Advisors.