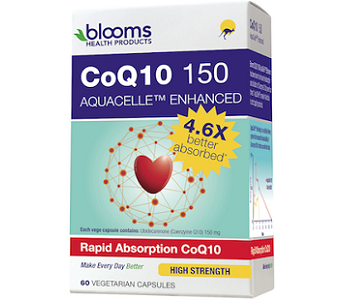 User Ratings (

0

Votes)

0
This is a review on Blooms CoQ10 150 AquaCelle Enhanced, a coenzyme Q10 supplement that claims to have AquaCelle technology – offering increased absorption, and thus efficacy, of coQ10. From supporting cellular function and heart health to reducing oxidative damage and thus the signs of aging; this enzyme is highly beneficial to bodily functioning. These types of supplements are popular because –  although this substance is naturally produced in the body – the synthesis of it decreases with age. In the following review, we shall assess the efficacy of this product, as well as its customer support provided, to help you decided if it is worthy of your purchase.
Ingredients
This product contains 150 mg of Ubidecarenone, known as coenzyme Q10. The aforementioned substance is an antioxidant that supports many important bodily processes, such as reducing free-radical damage, balancing PH levels, and sustaining natural energy. While many competing products have added beneficial ingredients such as Piperine; this product makes use of AquaCelle technology, which claims to offer a fast-acting lipid-based delivery for added absorption and thus effectiveness. While this may sound good in theory, the lack of GMP certification – which certifies quality manufacturing – is concerning and may not guarantee the efficacy or consistency of this product. Otherwise, it is a relief to see that there are no additional ingredients added to the formula; such as animal products, preservatives, or artificial flavors.
Dosage
As mentioned before, there is 150 mg of the key active ingredient included in this product. This is far below the concentration of CoQ10 included in competing products which is up to 250 mg per serving. As this serving is substantially lower, it may impact the efficacy of this product when compared to competing brands. The administration of these supplements are as follows: take 1 capsule once a day with meals.
Possible Side Effects
Blooms states to not take this product while on Warfarin therapy. We further extend that warning to customers taking any other cholesterol medication, as coQ10 has been known to decrease anticoagulant efficacy. The manufacturer does not mention any more side effects as the result of use. This may showcase a lack of consideration on behalf of Blooms as the use of supplements such as these have been known to result in unwanted side effects such as nausea, dizziness, irritability, and heartburn to name a few.
Price
This product comes in a 60 capsule container (lasting 2 months of use) and can be purchased online, however, it cannot be bought directly from the manufacturer's website. Blooms CoQ10 150 AquaCelle Enhanced can be bought from a variety of third-party sites at differing prices and discounts. One such site advertised this product for a discount of 42%; making the price $38.95. Customers will need to research each site to get the best price available.
Guarantee & Feedback
There is no information on the manufacturer guarantee available for this product. This is a great concern as it showcases a lack of confidence in the product efficacy and quality on behalf of the manufacturer. Furthermore, the customer reviews are absent – meaning we have no third-party support as to the efficacy of this product. This, too, is a concern.
Our Conclusive Review About Blooms CoQ10 150 AquaCelle Enhanced
Blooms CoQ10 150 AquaCelle Enhanced is a CoQ10 supplement that claims to have efficient absorption based on the AquaCelle technology integrated into the product. However, this product does not match competing brands with regards to the concentration of the active ingredient, falling short by a substantial 100mg. Although the product may appear reasonably priced, the customer will have to spend additional time trying to find the best deals from multiple websites. Furthermore, this product is not supported by GMP certification, a manufacturer guarantee, or customer reviews. This is highly concerning. In saying so, we do not recommend this product as the best product choice available on the market.
Bringing you top reviews and product analysis - Consumer Advisors.