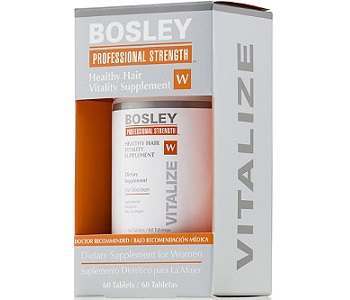 User Ratings (

0

Votes)

0
Millions of people are suffering from hair loss. It is very apparent, especially for most women. Although there are a lot of female hair restoration solutions being made available today, it is always safer to know the products that are being offered.
Read our Bosley Hair Vitality Supplement for Women review to learn whether this product will best fit your current hair growth needs.
Ingredients
We found out that there are four active ingredients being used in this specific product:
Horsetail Extract – Largely responsible for the healthy growth of hair.
Copper – Essential for the formation of skin and hair.
Cysteine – Has the capability to form healthy hair and skin.
Riboflavin – Nourishes the hair, skin, and nails.
On the other hand, there is is not a clear image of the bottle label and the ingredients on the manufacturer's website, however, it appears there are more active ingredients than just these four mentioned. Based on our research, it seems difficult to find out what the full ingredient list is and why only these four ingredients are specifically mentioned.
Dosage
It is recommended to take 1 to 2 tablets daily.  However, there are no stated amounts of dosage contained in each tablet.
Possible Side Effects
There are certain cases that women experience side effects such as cold sweats, chills, and itching. While the numbers of such cases are insignificant, still these things should be well regarded.
Price
At regular price, a bottle of Bosley Hair Vitality Supplement for Women can be purchased for $35 from the Beauty Care Choices website. Currently, they are offering a sale resulting in the price to drop to $32. Each bottle contains 60 tablets which is good for a month's supply.
The ordered products are to be shipped but the information is insufficient as to how much shipping will cost. There is free shipping on orders over $49.
Guarantee & Feedback
Beauty Care Choices offers a return policy of 30 days. However, it is not stated in what condition the product needs to be in to be eligible for a refund. This may not be a money-back guarantee as such, and rather a way to return an unopened product that you do not want. However, the details are unclear. The reviews for this product that we found on Amazon are mostly positive.
Our Conclusive Review About Bosley Hair Vitality Supplement for Women
What we love about this product is that all of its ingredients are very well known in the industry of female hair restoration solutions that help manage different hair concerns of women today. In addition, the price for this product is in the average range. The reviews about this product are also mostly positive.
On the other hand, we have some concerns about the fact that some of the ingredients are not listed. It is strange why only four ingredients are mentioned, while an ingredient such as biotin, is not. Also, the lack of a clear guarantee is a drawback, and it is not certain under what circumstances you will get your money back if you are not happy with the product. We believe there are other effective products on the market that provide more information what goes into making the supplement and what ingredients you will be consuming.
Bringing you top reviews and product analysis - Consumer Advisors.