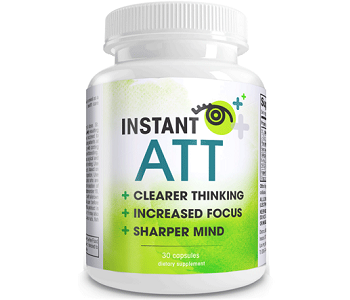 User Ratings (

0

Votes)

0
The brain is one of the most complex organs in the human body. It controls the functions of all of the other organs and processes very complex data in very little time. The brain is made up of cells called neurons, which release neurotransmitters to perform their function. Due to the stress of daily life and aging, processes in the brain can become slowed and mixed, or the brain can become fatigued. That is why there are brain boosters available to improve cognitive function, memory retention and concentration. InstantATT is one of the brain boosting supplements available. It contains a variety of ingredients which are designed to act within the complex pathways in the brain and generally improve its performance. This review closely examines the product to determine if it is an optimal brain boosting supplement.
Ingredients
Four ingredients are extracts from plants. St John's Wort has been used since times as early as the ancient Greek empire to treat nervous disorders. It contains powerful antimicrobials and antioxidants. Scientifically, it has been shown to protect neurotransmitters involved in concentration. Bacopa Monnieri has been shown to improve memory and cognitive function. Ginkgo biloba helps to reverse effects of neural degeneration. Similarly, Huperzine-A protects neurons and enhances cognitive function.
This supplement also contains small molecules such as N-Acetyl-L-Carnitine, DMAE bitartrate and L-Glutamine  which act in the brain, and generally energize and excite it. DMAE acts on neuron membranes, acetylcarnitine acts on the neuron mitochondria (which are responsible for cell energy production) and glutamine acts as an excitatory neurotransmitter.
Another important ingredient is phosphatidylserine because it is a component of neuron membranes and increasing the amount of it in the body helps the brain to repair itself and form new connections. Another ingredient, called Vinpocetine has been tested for relaxing the brain and protecting its cells, but there is insufficient scientific data to prove these benefits.
Dosage
1 capsule should be taken daily. The Manufacturer does not specify whether it should be taken with food or not or at what time of the day.
Price
One container of 30 capsules can be purchased online for $39.95. There are deals available for purchasing 3 or 6 containers at once, which cost $89.95 and $179.95 respectively.
Guarantee & Feedback
InstantATT offers a 500 day guarantee, which includes a complete refund if the customer is unsatisfied with the product.
The customer reviews for this product are mostly positive and are completely available for potential buyers to read.
Our Conclusive Review About InstantATT
The ingredients contained in this product are promising, and for the most part are important components of a brain boosting product. There are also no major side effects reported for this product. We are concerned, however that their is an ingredient present which is not scientifically backed, as we believe all ingredients should have sufficient evidence of their claimed effectiveness.
InstantATT is also offered at a reasonable price, with a good money back guarantee and mostly positive customer feedback, but the directions of use for this product are ambiguous, which can affect a customer's individual results.
Bringing you top reviews and product analysis - Consumer Advisors.