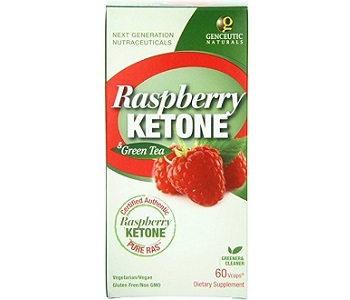 User Ratings (

0

Votes)

0
Raspberry ketones are phenolic compounds that were isolated in raspberries and later found by science to act on human fat cells. For this reason, they are often used as a weight loss supplement because they help people to burn fat. However, not all manufacturers that use raspberry ketones produce supplements of the same quality because they may have dosages that are too small. We take a look at Genceutic Raspberry Ketone in this review to determine if it is an effect of raspberry ketone supplement.
Ingredients
Decaffeinated green tea extract
Raspberry ketone
Green tea extract contains compounds called catechins. Catechins act as biologically active molecules that cause fat cells to break down their fat stores. Raspberry ketones have a similar mechanism but it's more indirect. Raspberry ketones cause the release of a hormone called adiponectin which also causes fat cells to break down their stored fat and release energy.
Dosage
Customers can take the supplement once or twice daily, taking one capsule per serving. The manufacturer suggests trying the product for at least 10 weeks with a calorie controlled diet and exercise program along with consuming 8 to 10 glasses of water per day.
Each capsule contains 200 mg of raspberry ketones and 300 mg of green tea extract. The dosage of raspberry ketones is far below the research supported dosage of 1000 mg.
Possible Side Effects
Raspberry ketones or green tea extract don't really present side effects in healthy people, but they can aggravate underlying conditions (especially green tea) even if the affected people are unaware of these conditions. For example, green tea can make anemia worse. If any adverse effects start to occur, stop the use of the supplement and consult a doctor. Pregnant women and breastfeeding mothers should consult a physician before using this supplement as should anyone with a chronic medical condition.
Price
A pack of 60 capsules can be purchased online for $34.99. This price does not include shipping and taxes. We could not find any evidence of the manufacturer offering any sort of discount for buying in bulk or subscribing.
Guarantee & Feedback
Each product is covered by a 30 day guarantee. This guarantee is valid for products bought only directly from the manufacturer. The manufacturer states that the guarantee is unconditional which implies, but does not directly state, that products that have already been opened may be returned.
The manufacturer doesn't seem to provide a space for customers to post their reviews, and there are no reviews on major third party distributor websites.
Our Conclusive Review About Genceutic Raspberry Ketone
This is supplement contains the right ingredients to assist with weight loss but the dosage of them is far too low in this particular product to exhibit any kind of effect. The price of this supplement is quite reasonable and the manufacturer offers a guarantee which is a positive sign. There is a slight problem with this guarantee in the fact that it is not valid far long enough for customers to try the product properly. Genceutic Raspberry Ketone is adequate, but there are definitely better supplements out there.
Bringing you top reviews and product analysis - Consumer Advisors.