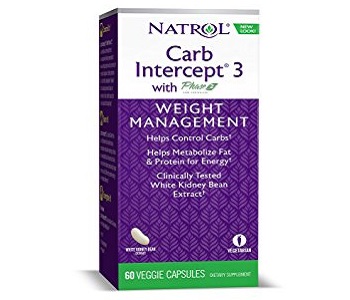 User Ratings (

0

Votes)

0
Carbohydrates form an important part of any healthy diet. But if their metabolism is not controlled in the body, they can lead to excessive fat production. Natrol Carb Intercept 3 is a supplement which aims to control the level of glucose in the blood and to improve the metabolism of fat stores to help the user burn calories and lose weight. This review determines if the product is effective and if it provides a good value for money.
Ingredients
The main ingredient in this product is White Kidney Bean extract. White Kidney Bean extract inhibits the enzyme called amylase. When amylase is inhibited complex carbohydrates cannot be broken down and absorbed. This action is supported by epigallocatechin gallate which inhibits the transportation of carbohydrates through the SGLT1 channel in the intestine. We found it quite strange that the manufacturer included sodium in their product because sodium enhances the absorption of glucose.
When the glucose is in the bloodstream, the green tea extract and chromium kick in. Green tea has insulin-like effect and chromium increases insulin absorption through the GLUT4 transporter in the muscles. A reduced blood glucose 0results in a decreased conversion of glucose to fat.
Finally, the manufacturer includes caffeine in this product because caffeine has been shown scientifically to induce the breakdown of triglycerides. Triglycerides are the form in which fats are stored in the body.
Dosage
The manufacturer recommends taking two capsules of  Natrol Carb Intercept 3 daily. They do not state it, but our research has determined that it is best taken after a meal. Each capsule contains the caffeine content of one cup of coffee.
Possible Side Effects
It is highly recommended to avoid high caffeine drinks or food when taking this supplement as this could cause a caffeine overdose. The supplement may also be unsafe for pregnant women, breastfeeding mothers and individuals with a chronic medical condition. It is best for these individuals to consult a physician before using the supplement.
Price
Each package of Natrol Carb Intercept 3 contains 60 capsules. One package can be purchased online for $13.01, which does not include shipping or taxes. This manufacturer does not appear to offer a discount for buying a bulk supply of the product.
Guarantee & Feedback
This manufacturer does not sell their product themselves but rather relies on third-party websites. This means that they do not offer any form of guarantee on their product.
The customer reviews from third-party websites with balanced between positive and negative reviews. The main complaint is that the product doesn't work or that it caused adverse side effects. Some of the positive reviews state that the product worked well.
Our Conclusive Review About Natrol Carb Intercept 3
Some ingredients included in this product have some promising research behind them, but some research is inconsistent and some ingredients have negative interactions. The price of this product is quite low but this is offset by the fact that the manufacturer does not offer a guarantee. With everything considered, we do not find this product to be the most ideal and effective carbohydrate blocker on the market. There are other manufacturers who offer products with better considered ingredients which are supported by a satisfaction guarantee.
Bringing you top reviews and product analysis - Consumer Advisors.