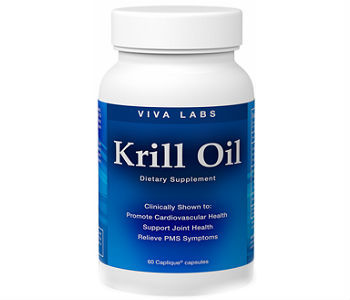 User Ratings (

0

Votes)

0
Krill oil is derived from krill which is a small crustacean resembling shrimp that are found in all the world's oceans. Krill oil is one of the best ways of adding omega-3′s to your diet. You will appreciate the following facts about Viva Labs Krill Oil:
Tested and reviewed independently to bring the superior power of antioxidants not found in standard fish oil
A proprietary sealed capsule that delivers advanced, faster and convincing results
Free from the impurities that are typically contained in fish oil such as PCBs and Mercury
Viva Labs Krill Oil is recommended by 97% of current customers
Viva Labs Krill Oil guarantees results or your money back.
Ingredients
Viva Labs Krill Oil contains the following ingredients:
1250 milligrams Viva Labs Krill Oil – Contains a rich supply of Omega-3s, especially EPA and DHA.
300 milligrams Omega-3 Fatty Acids – Omega-3 Fatty Acids carry a boatload of health benefits that are required for overall health. Omega-3 Fatty Acids are a very beneficial group of polyunsaturated fats that have proven benefits to many areas of health including cardiovascular health, mental health behavioral health.
165 milligrams Eicosapentaenoic Acid (EPA) – Eicosapentaenoic acid is a highly polyunsaturated fat found in the flesh of cold water fish. It plays a role as an anti-inflammatory. It is used in the treatment of heart disease, blood pressure and diabetes. It also improves the health of the brain and retina.
95 milligrams Docosahexaenoic Acid (DHA) – Docosahexaenoic acid is a highly polyunsaturated fat that makes up 15% to 20% of the brain. It is important for proper brain and nervous system function. It is also important for brain, eye and heart development in infants, children and adults.
500 milligrams Phospholipids – Class of lipids that are a major component of all cell membrane.
1.6 milligrams Esterified Astaxanthin – A very powerful antioxidant.
Dosage
The recommended dose for Viva Labs Krill Oil is two softgels per day. There is no mention of whether or not it should be taken with meals or before meals.
Price
The standard price for a one month supply (60 softgels) of Viva Labs Krill Oil is $29.95.
Guarantee
The manufacturer of Viva Labs Krill Oil offers a 90 day refund guarantee from the date of purchase. The manufacturer also provides a website that contains contact information, a way of sending comments and questions. The website also displays product testimonials.
Our Conclusive Review Of Viva Labs Krill Oil
Viva Labs Krill Oil is pretty expensive at around $30.00 for a month's supply. Even though the product can be bought without a prescription, the purchaser might have this product evaluated by a health practitioner. The manufacturer does offer a good refund policy.
Bringing you top reviews and product analysis - Consumer Advisors.