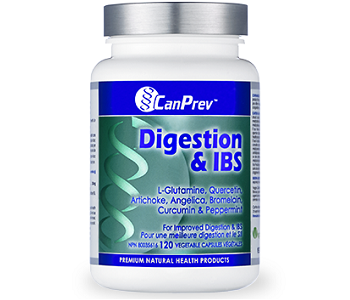 Quality of Ingredient

7.5

User Ratings (

0

Votes)

0
This review is for a product called Digestion & IBS from CanPrev that provides support for individuals who suffer from digestive issues. Irritable Bowel Syndrome is a painful and often embarrassing condition that will leave you running for the bathroom. The company that produced this product claim that the ingredients included in their formula will relieve intestinal distress, bloating and cramping that is often associated with this condition. Additionally, this product contains various vital amino acids that will restore the health of your digestive system. This product also soothes the gut, which helps food to digest more effectively and allow it to pass through your body without complications.
What's in CanPrev Digestion & IBS?
L-Glutamine- an amino acid that is vital for the production of proteins that keep the intestines healthy.
Quercetin – a powerful antioxidant, which is absorbed in the gut. Additionally, it improves the functioning of the immune system.
Artichoke (cynara scolymus) leaf – used to relieve mild constipation and soothe the gut.
Angelica archangelica root – an herbal ingredient that relieves cramping and bloating.
Bromelain – included in the formula to improve the absorption of the active ingredients.
Curcumin – the active compound in turmeric, which acts as an anti-inflammatory.
Peppermint (mentha x piperita) leaf – this herbal ingredient helps to soothe the bowels.
Vegetable-grade magnesium stearate – included in supplements to keep the ingredients from sticking to each other.
Vegetable capsule – usually made from plant cellulose and contains the ingredients in the formula.
How Do You Use CanPrev Digestion & IBS?
According to the directions provided for this supplement, you should take three capsules twice a day with a meal. You should also make sure to include enough fiber in your diet and take a probiotic.
The Cost
Sadly, you cannot buy this product online. The manufacturer provides an extensive list of pharmacies that stock this dietary supplement. We are unable to give you an indication of the cost as it may differ depending on location.
Is There A Guarantee?
Regrettably, we were unable to find any guarantees or return policies that are available for this product. This is concerning as a guarantee is always an indication that the manufacturer places emphasis on excellent customer service. We were also unable to find any customer reviews for this problem. This made us doubt the efficacy of this product.
The Conclusion of Our CanPrev Digestion & IBS Review
When we reviewed this product, we concluded that it could be effective for relieving the uncomfortable symptoms of digestive distress. This product contains a wide variety of key ingredients that calm and soothes the intestines. Additionally, we were impressed by the excellent instructions provided by the manufacturer. However, we uncovered a variety of concerning issues during our research. You will not be able to buy this product online. Additionally, we were not able to find any customer reviews for this product. We found this incredibly concerning as reviews from real people are usually the only reliable source to determine if a product is effective. Finally, we believe that products like this should not contain as many additional ingredients as this one does.
Bringing you top reviews and product analysis - Consumer Advisors.