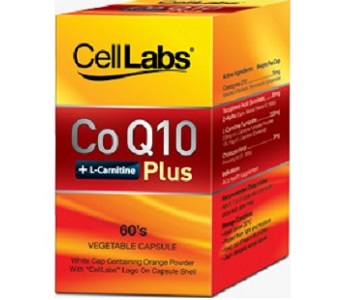 User Ratings (

0

Votes)

0
In the following review, we have assessed CellLabs CoQ10 + L-Carnitine Plus to help you make a wise consumer purchase. We have reported on several factors that may contribute to the product's ability to perform as intended. The manufacturer claims that this supplement provides essential ingredients for improved cardiovascular health and increased energy production.
Ingredients
Coenzyme Q10
Tocopheryl Acid Succinate, D-Alpha
L-Carnitine Fumarate
Cholecalciferol
The main ingredient in this formula is Coenzyme Q10 (CoQ10). CoQ10 is a naturally occurring substance that is responsible for the body's ability to turn fats and other nutrients into usable sources of energy. CoQ10 is also known to regulate blood pressure and fight the harmful impact of oxidative stress on the body. CoQ10 products are popular as the substance declines with age and supplementation may minimize the risk of cardiovascular disease. This formula contains other ingredients for additional benefit. Tocopheryl Acid Succinate, D-Alpha is a source of Vitamin E which is argued to have many health benefits. Vitamin E is an antioxidant that balances cholesterol levels for improved heart health. Cholecalciferol supplies Vitamin D3 to the body. Vitamin D3 supplementation fights deficiencies which could lead to high blood pressure, cancer, and heart disease. L-Carnitine Fumarate is an amino acid that aids in the body's fat burning capacity by transporting fatty acids to mitochondria that use them for fuel. The manufacturer states that the formulation of this product adheres to cGMP guidelines. This is positive to note as it indicates a level of quality consideration.
Dosage
Users should take one (1) to three (3) capsules once daily after meals. Each capsule provides 75mg of CoQ10. Therefore, each dosage supplies up to 225mg of CoQ10. Competing products on the market contain up to 250mg. This dosage, therefore, is lower than superior products on the market. Additional dosage may be required for optimal results.
Possible Side Effects
The manufacturer does not suggest that using this supplement may cause negative side effects. This is a concern as CoQ10 supplements may cause nausea, abdominal pain, and headaches. We recommend discontinuing use if you experience any of these side effects as they may be an indication of inferior product quality.
Price
This product can be purchased online from CellLabs. A bottle of 60 capsules costs $39.04. This is a relatively steep price, especially considering that each bottle may only last twenty (20) days when used as recommended. There are no discounts to encourage long-term use and this could become very costly.
Guarantee & Feedback
The manufacturer states that all products purchased through their online store are non-refundable, non-returnable, and non-exchangeable. This lack of return policy is extremely concerning as it suggests that the manufacturer is not confident in the product. Customers cannot be assured of product efficacy and, therefore, may receive a faulty product. To make matters more concerning, there are no online customer reviews to support this product. The lack of customer recommendations makes it exceptionally difficult to trust the manufacturer's claims.
Our Conclusive Review About CellLabs CoQ10 + L-Carnitine Plus
This product contains a formula of ingredients known to support heart health and boost energy production within the body. The fact that manufacturing processes follow cGMP guidelines may be a testament to the quality of the product. However, there are several concerning factors about this product. It lacks a product guarantee to instill confidence in its suggested effectiveness. Also, the extremely high price is not justified by any positive customer reviews. Finally, there are several competitor products that contain higher doses of CoQ10. Therefore, we recommend searching for a superior product that is quality assured.
Bringing you top reviews and product analysis - Consumer Advisors.