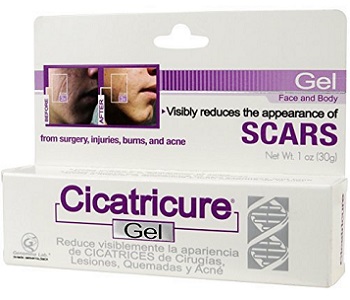 User Ratings (

0

Votes)

0
Today we are going to review Cicatricure Scar Gel. Cicatricure Scar Gel was formulated to fade the appearance of old and new scars. Cicatricure Gel claims to aid scar appearance that was caused by burns, surgery, injuries, stretch marks, and acne. Cicatricure Gel also claims to decrease the appearance of blemishes that were left by burns and acne. If you are serious about improving the appearance of your skin you can read the rest of our review regarding Cicatricure Scar Gel below.
Ingredients
The ingredients include:
Water
Glycerin
Carbomer
Chamomilla Recutita
Allium Cepa bulb extract
Polysorbate 20
Phenoxyethanol
Centella Asiatica Extract
DMDM Hydantoin
Sodium Hydroxide
Decolorized Aloe leaf extract
Diazolidinyl Urea
Sodium Benzoate
Disodium EDTA
Allantoin
Citrus Aurantium Bergamia Fruit oil
Phytonadione
These ingredients are very good for the skin, and not only claim to fade scars, but also to moisturize the skin. Although this is an extensive list of good ingredients Cicatricure Gel may not be the best product out there if you insist on 100% natural ingredients.
Dosage
It is recommended to apply Cicatricure Scar Gel liberally on recent scars. You can apply the gel 4 times per day for 8 weeks. For scars that are a bit older, you can apply Cicatricure Scar Gel 3 times per day for 3-6 months.
Possible Side Effects
Although there are no serious side effects mentioned on the manufacturer's website it is stated that Cicatricure Scar Gel is only recommended for external use. You should not apply this product on irritated or injured skin and it is advised to stop using this product if irritation or a rash occurs.
Price
The price for one jar of Cicatricure Scar Gel of 1.0 oz is $14.25. Most merchants of this product on Amazon include free shipping with their sales of Cicatricure Gel.  This product is unfortunately not eligible for international shipping through Amazon and can currently only be shipped within the U.S. and to APO/FPO addresses.
Guarantee & Feedback
If you order this product from Amazon, you can return it within 30 days of receipt of shipment in most cases. Be sure to read the specific merchants' return and purchase policy to make an educated decision in case you are not satisfied with the product. If you order this product from a seller that has his/her own inventory that does not get shipped through Amazon, then you have to return this product back to the seller instead of Amazon.com. The feedback regarding Cicatricure Scar Gel is mostly positive when one looks at the Amazon reviews alone. It also has to be mentioned that there was a significant amount of customers who were not satisfied. 15% of customers gave the product 1 out of 5 stars on the review panel and 6% of customers gave the product a 2 out of 5-star rating.
Our Conclusive Review About Cicatricure Scar Gel
Cicatricure Scar Gel has appealing qualities like the fact that it has an extensive list of ingredients that claim to fade the appearance of scars and moisturize the skin. Most of the reviews on Amazon are also quite favorable in terms of this product. We don't, however, like the weak guarantee that this product has. This makes us question the confidence the sellers of this product has in its effectiveness in helping scars fade. It is also a shame that you only get 1.0 0z of this product for the high cost of $14.25.
Bringing you top reviews and product analysis - Consumer Advisors.