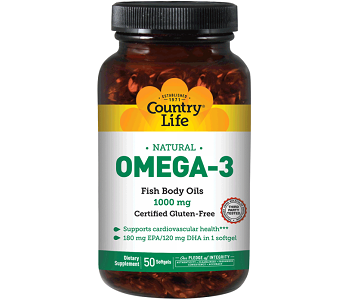 User Ratings (

0

Votes)

0
The following review is for a product called Country Life Omega-3 Fish Oil. It is a dietary supplement that is designed to support cardiovascular health and provide the body with essential nutrients that help lower blood pressure.
Ingredients
Fish Body Oils (From marine lipid fish body oil concentrate, such as Mackerel, Anchovy, Sardine, Salmon and Herring)
Garlic Oil Concentrate
Omega-3 fish oil has eicosapentaenoic acid and docosahexaenoic acid, which are essential in preventing heart disease. Omega-3 fatty acids are known to lower blood pressure, reduce triglycerides and slow down the development of plaque in arteries. Garlic has a chemical called allicin, which is what makes it work in preventing and providing relief, and reducing certain health conditions. In relation to heart health and blood system, garlic is known to be beneficial in high and low blood pressure, high cholesterol, coronary heart disease, and hardening of arteries.
Other ingredients: Gelatin, Glycerin, Pure water, Carob, Ascorbyl palmitate.
Dosage
The recommended dose is 1 capsule per day, best taken with a meal.
Price
Country Life Omega-3 Fish Oil can be purchased online through various retailers. The price of the product is $17.54 for a bottle of 200 capsules, while the bottle of 300 capsules is $24.04. Discounts are available at selected retailers.
Possible Side Effects
You are advised to consult your healthcare practitioner if you are pregnant, breastfeeding, taking a medication, or if you are preparing to do a surgery, before taking this supplement. There are no side effects that are specifically related to this product, however, fish oil in general might cause some side effects on some people, such as increased symptoms of bipolar and depression in individuals with these conditions; lowering of blood pressure in people who already suffer from low blood pressure and those taking blood pressure lowering medication.
Guarantee & Feedback
There seem to be no money-back or any form of guarantee offered by the manufacturer. We looked through their entire website, and on those of third-party retailers. We did not come across any information about a guarantee, which implies that it does not exist. This is disappointing and a concern for consumer protection.
Our Conclusive Review about Country Life Omega-3 Fish Oil
Country Life Omega-3 Fish Oil seems to be an effective product for improving heart health. A number of consumers who have used this supplement before comment positively on the reviews posted on the retailers' websites. We like that it does not contain dairy, wheat, sugar and salt because it accommodates individuals who are intolerant to those ingredients. However, it does not accommodate individuals that are allergic or intolerant to seafood, which is a downside of this product. We are also not happy that the product is not backed by the manufacturer's guarantee. We all know that healthcare products do not always work for everyone. If this product does not work for you, you are not given an opportunity to return the product for a refund. Considering the many side effects that one might experience from taking fish oil, it is likely that there will be individuals who would want to return the supplement when they experience such. We recommend that you rather look for a product that has no side effects and one that is supported by a manufacturer's money-back guarantee.
Bringing you top reviews and product analysis - Consumer Advisors.