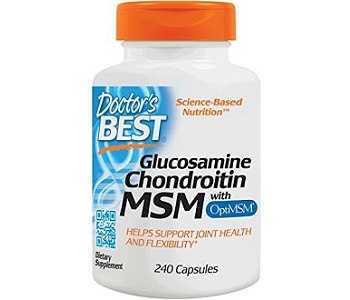 User Ratings (

0

Votes)

0
Today we review Doctor's Best Glucosamine Chondroitin. This formula contains three pure ingredients to help support healthier joints.  By helping your body produce more proteoglycans, your body can better maintain your joint structures which, in turn, supports better joint function.
Ingredients
This supplement contains Glucosamine Sulfate, Chondroitin Sulfate and Methylsulfonylmethane (MSM).  When taking the recommended dose, you will get 1500 mg of glucosamine, 1200 mg of chondroitin, and 1000 mg of MSM daily.  These are the clinically proven, doctor recommended amounts of these ingredients. However, while this formula is great for supporting healthier joints, there is nothing in the supplement to help stop any current joint pain you may have.  These ingredients do not help with immediate inflammation or other pain you may have.
Dosage
The daily dose of this product is four capsules, taken all together, once per day. The dose should be taken with food unless otherwise directed by your doctor.  This is a lot of capsules to need to take in order to get your typical dose of these ingredients.
Possible Side Effects
While there are no specific side effects listed on this product, there are a few warnings to be aware of.  This supplement does have traces of shellfish. Also, if you are taking warfarin or other medications for glaucoma or diabetes, it is essential that you speak with you healthcare provider before beginning this supplement.  Additionally, many customer reviews mentioned headaches and stomach pains that started when they began this supplement.
Price
This company does not sell its products directly to consumers.  Instead, they offer various third party sellers for you to find the product.  On one third party site, we found that the price of a 120 count bottle is $13.34.  There is also a 240 count bottle available for $21.02 and a two pack of the larger bottles for $59.95.  This seller does offer an auto-subscription program that offers an additional 5% off of the purchase price for the two smaller sizes.
Guarantee & Feedback
Because this manufacturer does not deal with its consumers directly, there was no mention of a guarantee or return policy on their website. Should you find yourself not satisfied with this product, it may be difficult to get a refund for your purchase.
As far as customer feedback, this product did have many positive reviews, but we also found many reviews that stated unwanted side effects from this supplement.  Others received their bottles with many broken capsules inside, so they were unable to use all of the pills within a bottle.
Our Conclusive Review About Doctor's Best Glucosamine Chondroitin MSM
Glucosamine Chondroitin MSM by Doctor's Best does have some positive qualities.  By taking the recommended daily dose of this supplement, you are getting the clinically proven amount of glucosamine, chondroitin, and MSM.  Also, we were able to find a good deal of positive customer reviews on this product.
Unfortunately, there were also many things that raised our concerns regarding this supplement.  There were no ingredients to help with the immediate issues of joint pain, like inflammation. Also, having to take 4 capsules daily is a high dose for any supplement.  Next, there were many negative customer reviews as well that stated unwanted side effects like stomach pains, headaches, and other problems. Lastly, there is no manufacturer's guarantee listed for this product.  For these reasons, we cannot recommend this supplement to help you stop your joint pain and support healthier joints.
Bringing you top reviews and product analysis - Consumer Advisors.