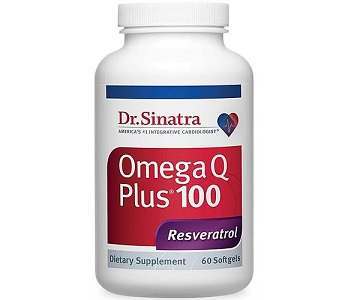 User Ratings (

0

Votes)

0
This is a review for Dr Sinatra Omega Q Plus 100 Resveratrol, a supplement that has been clinically tested and found suitable for managing advanced heart health and aging issues. Formulated with cutting edge CoQ10 the manufacturer says it helps to support a strong, healthy heart, maintain healthy blood pressure, promote balanced cholesterol ratios, proper blood circulation, enhance overall cardiovascular function and ensure abundant cellular and physical energy. A clinical study of one of the company's other (similar) products indicated that "96% of participants saw on average a 55% raise in CoQ10 blood levels and 60% in statin users" — although it doesn't actually seem to conclude that such a rise in CoQ10 is beneficial, just that the CoQ10 levels went up, which is not all that surprising when taking CoQ10. Read our complete review below to learn more.
Ingredients
The active ingredients in Omega Q Plus 100 Resveratrol include: vitamin B6 (as pyridoxine HCI, pyridoxal-5-phosphate) 30 mg, Folic Acid 400 mcg, Vitamin B12 (as cyanocobalamin) 750 mcg,
Calamarine Oil Concentrate (from squid) 1,250 mg, DHA (docosahexaenoic acid) (as ethyl esters) 350 mg, EPA (eicosapentaenoic acid) (as ethyl esters) 200 mg, L-Carnitine (as fumarate) 200 mg,
Hydro Q-Sorb Coenzyme Q10 (as ubiquinone) 100 mg, Trans Resveratrol.
Other ingredients include: Gelatin, gamma cyclodextrin, glycerin, medium chain triglycerides, sunflower lecithin, beeswax, silicon dioxide, sunflower oil, natural lemon flavor, annatto seed extract.
Hydro Q-Sorb CoQ10 is said to stimulate the mitochondria to produce more energy and help supply oxygen to the heart muscles as well as deliver antioxidants to help destroy free radicals to support your heart health and overall well-being. Trans resveratrol is key in supporting your blood vessels and proper blood circulation. Calamarine plays a major role in regulating blood pressure, cholesterol ratios, blood vessel health and circulation, and supports brain, eye and digestive tract functionality. L-Carnitine is for cardiovascular health. Folic Acid supports healthy homocysteine levels which keep your blood vessels healthy. Finally, Vitamin B12 in conjunction with vitamins B6 supports homocysteine levels, enhances energy production, protects cardiovascular health, and supports your immune health.
Dosage
The recommended dosage is two softgels once daily with a meal. You can opt to take two softgels twice daily with meals for faster results.
Possible Side Effects
Harmful effects associated with Omega Q Plus 100 Resveratrol may include severe allergic reactions (rash; hives; itching; difficulty breathing; tightness in the chest; swelling of the mouth, face, lips, or tongue), swelling, numbness or tingling of the skin, mild diarrhea, nausea, stomach upset. This supplement is only suitable for adults. However, pregnant or lactating women should consult a healthcare professional before taking this product.
Price
There are two purchase option available on the company website, regular and auto-delivery. As you can see below you get the best deal when you use the auto delivery plan.
Regular prices
1 Bottle cost $49.99
Buy 3 bottles at $149.97 Get 1 FREE
Buy 5 bottles at $249.95, Get 2 FREE
Auto Delivery prices
1 Bottle at $39.99
Buy 3 bottles at $119.98, Get 1 FREE
Buy 5 bottle at $199.96, Get 2 FREE
Guarantee and Feedback
The company allows customers to return products within 90 days for a full refund of the purchase price.
At the time of our review, Amazon customer ratings were reasonably good with 74% positive feedback and 17% negative.
Our Conclusive Review about Dr Sinatra Omega Q Plus 100 Resveratrol
Omega Q Plus Resveratol could be a helpful product for those who are concerned about heart health and other aging-related issues. With a customer-friendly return policy and a fairly good positive to negative customer rating ratio, it seems it delivers results, more often than not. On the downside, the pricing is high and the lack of actual studies on this product give us cause for a some concern.
Bringing you top reviews and product analysis - Consumer Advisors.