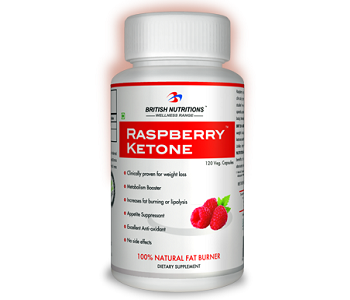 User Ratings (

0

Votes)

0
Read the following review about British Nutritions Raspberry Ketone, a supplement that is intended to help you burn fat and lose weight. The manufacturer claims that this supplement is a 100% natural weight loss supplement that allows you to burn stored fat and shed pounds quickly and efficiently like never before.
Ingredients
This product is wholly made from Raspberry Ketones. They help burn fat by raising the adiponectin levels in the body. Adiponectin is a hormone that modulates several metabolic processes like enhancing your muscle's ability to use carbohydrates for energy, increasing the the rate at which your body breaks down fat, boosting your metabolism and controlling your appetite.
There are no other ingredients added, which is quite strange because ingredients like cellulose, vegetable stearate and silica would normally be used in the manufacturing process of the capsules.  It is not common that a supplement does not contain ingredients like these. Nevertheless, they have no function in the capsule. However, it is good to declare, incase someone is allergic to any of them.
Dosage
The manufacturer recommends that the consumer takes 1 capsule of British Nutritions Raspberry Ketone two times a day with 240 ml of water, preferably when you wake up and 30 minutes before lunch. Additionally, take a third capsule 30 minutes before dinner. The manufacturer claims that you will achieve great results if you use this supplement in conjunction with a healthy diet and regular exercise.
Price
You can purchase this product directly from the manufacturer through their website for $21.91for 120 capsules, which is supposed to last you for a month. You receive a discount if you purchase more than one bottle. For instance, you get a 13% discount for purchasing two bottles, 17% off for purchasing three, and so on. Consumers from India do not pay for shipping costs.
Guarantee & Feedback
The manufacturer clearly states that returns and refunds are not accepted. The sad thing is that there are not even consumer reviews that one can read to find out other people's experiences.
Our Conclusive Review About British Nutritions Raspberry Ketone
British Nutritions Raspberry Ketone could be effective in burning fat and lead to weight loss.The price is okay. It is almost too low, but also reasonable. We like that the manufacturer offers discounts to its customers. We also like that the product is made from a natural ingredient. However, we are concerned that the dosage instructions are not clear. The recommendation is one capsule two times a day, yet it is also recommended that you take  a third capsule before dinner. This is not good because some individuals might stick to the initial recommendation of one capsule twice a day, and end up not achieving results. We find it strange that there are no other ingredients in this supplement, such as silica or magnesium stearate, etc because these are usually used in the manufacturing process. Not disclosing other ingredients might be dangerous because some people have allergies. Nevertheless, we will just hope that there are no other ingredients indeed. Another thing that we are unhappy about is that returns and refunds are not accepted. That means that you are taking a risk when buying this product. Moreover, lack of reviews is also not helpful because no one will know how others have experienced the product. We are not comfortable that you buy or try this product because it has many downsides.
Bringing you top reviews and product analysis - Consumer Advisors.