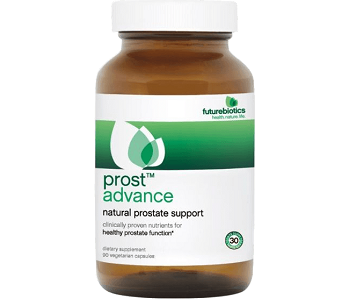 User Ratings (

0

Votes)

0
The following review is for a product called Prostate Advance from Futurebiotics. It is designed to provide support and improve prostate health. It contains all-natural ingredients that work together in supporting and protecting your prostate.
Ingredients
The ingredients included in this product are, Zinc, Selenium, Copper, and a proprietary prostate support blend, which includes Tomato Fruit, Pomegranate Fruit, Nettle root extract, Plant Sterols, Soy Isoflavones, Soy Protein, Green Tea Leaf Extract, Natural Lycopene, and Saw Palmetto Berries. Futurebiotics BioAccelerators (Bioperine+, Ginger root extract, Trikatu, Digezyme+, Lactospore+).
All these ingredients play different roles, but work together in improving and supporting prostate health. For instance, Ginger Extract and Trikatu improve digestion and absorption.  Tomato fruit, zinc and selenium boost prostate health. We do not see Beta Sitosterol, Quercetin and Muira Puama, yet these are considered as some of the 17 key ingredients for optimal prostate health and support .
Dosage
The recommended dosage is three capsules daily, taken with meals. It is not indicated if you should take all the capsules at once, or in divided doses.
Possible Side Effects
We became a bit concerned when we read reviews on on the the third-party retailers' website, where one consumers indicated that they experienced diarrhea within 10 days of taking the supplement.
Price
The price is $21.95 for 90 capsules, when purchases through the manufacturer's website. You can also purchase it through online retailers for various prices. For instance, one retailer sells this supplement for $14.67. Discounts are offered by online retailers, but there was no discount on the manufacturer's website during our research.
Guarantee & Feedback
The manufacturer states that if you are unsatisfied with any of their products, you may return the unused portion within a year, for a refund, exchange or credit.
We wanted to know what customers say about this supplement. When we went to the section of reviews on the manufacturer's website we did not see any. It is stated that you should sign in or register if you want to write a review, but there is nothing said about how one can view the reviews. There were only 11 reviews on one of the retailer's website, which is disappointing.
Our Conclusive Review About Futurebiotics Prostate Advance
Prostate Advance might be effective in improving your prostate health. The ingredients contained in it are all natural, and some of them have been proven to be supportive to your prostate. It is good that the manufacturer offers a money-back guarantee of a year. It shows that they care about your satisfaction, and that they trust their product. The price seems to be reasonable, which is good. However, we do not like that there are few reviews on this product. A good product normally has many reviews, showing that many consumers have used it. Even though this could be a good product, it is not easy to just trust it without seeing many consumer reviews. Secondly, there are some important ingredients that this product does not have, such as Beta Sitosterol, Quercetin and Muira Puama. The product could be more effective with these included. It is also very important to be detailed when giving instructions on how the supplement should be taken. The manufacturer only states that you take three capsules a day, but it is not indicated if you take all at once or in divided doses. Rather buy a product that gives clear instructions, and one that has many consumer reviews so that you can make an informed decision on whether or not you want to buy the product.
Bringing you top reviews and product analysis - Consumer Advisors.