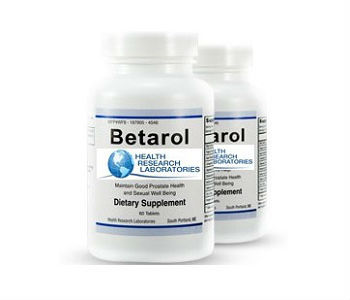 User Ratings (

0

Votes)

0
Betarol is a popular prostate formula which especially targets men above 40 years of age for curing prostate gland related health problems. Some of the benefits of taking Betarol, as claimed by Health Research Laboratories are as follows:
Reduction in urination.
Significant reduction in nightly urination.
Controlling inflammation of the prostate gland to keep it at a functional size.
Boosting sperm generation.
Increasing blood flow resulting in better erections.
The basic idea behind the functioning of Betarol in the body is to control or prevent the production of enzymes which harm the prostate gland. It seems more suitable for preventing prostate problems rather than curing them as it aims to maintain an environment in the body in which the prostate remains healthy.
Ingredients
Betarol comprises of all natural or herbal ingredients, many of which have been clinically proven to be very efficient for curing prostate gland problems and for maintaining general prostate health. One such ingredient is the Beta Sitosterol which is known for its properties which can shrink the size of the prostate gland. Some of the main ingredients and their benefits are listed below:
Beta Sitosterol (including Campesterol, Stigmasterol and Brassicasterol) – This ingredient is present in the largest quantity and is the active ingredient. It is very good for curing symptoms of Prostatis or enlarged prostate treatment.
Saw Palmetto – It is a popular ingredient which is effective in maintaining testosterone levels in the body.
Pygeum Africanum – The extracts from the bark of an African tree are also known for curing symptoms of prostatis.
Isoflavones – This ingredient helps in preventing prostate cancer and is also used in cancer treating medicines.
Zinc and Selenium – These minerals are quite popular for maintaining the general sexual health in males.
Dosage
The recommended dosage for Betarol is one pill in a day. It can be taken either in the morning or in the evening as per routine.
Side Effects
Betrol is an 'all-natural' product as claimed by Health Research Laboratories. There don't seem to be any reported side effects of this formula.
Possibility of Long Term Results
Betarol is recommended to be taken for maintaining general sexual health and especially if there has been even the slightest symptom of Prostatitis. Regular dosage of Betarol can significantly curb any prostate enlargement or prostate cancer symptoms. Long term results will include a healthy sexual life even at an old age and a noticeable boost in energy levels caused due to a healthy libido.
Price
Betarol can be purchased from the manufacturer's official website at $29.95 per bottle which contains 60 tablets, making the monthly cost of Betarol about $15. The website also has attractive bulk purchase options in which 3 bottles can be bought for $26.65 per bottle and a carton of 6 bottles can be bought for $19.99 per bottle. Clearly, buying Betarol in bulk will result in saving quite a handful of cash, though $29.95 per bottle is also an extremely reasonable price.
Guarantee
The manufacturer gives a 60 day money back guarantee which is quite impressive as 60 days would be more than enough to judge whether the tablet is effective or not.
Conclusion Of Our Health Research Laboratories Betarol Review
Betarol seems to be a pretty good option for those who want to try out herbal medication for prostate gland without resorting to chemical treatments. One major drawback to Betarol is that no clinical trials have been done to authenticate the effectiveness of the pill. Suggestions have also been made that with a little more research and addition of some more ingredients, it can be made much better.
Bringing you top reviews and product analysis - Consumer Advisors.