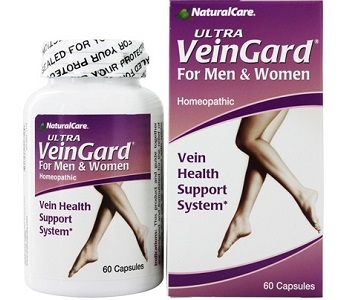 User Ratings (

0

Votes)

0
This review examines a product manufactured by NaturalCare for the management of varicose veins. The product's name is Vein-Gard. Varicose veins can be quite painful and swollen but they are also unaesthetic. They can occur in any part of the body but are generally localized in the legs. They often occur in people who spend too much time standing. Being overweight, pregnant or elderly could exacerbate there onset.
Ingredients
There are many active plant extracts in this supplement. Plant extracts contain flavonoids catechins and saponins. These compounds have antioxidant effects and protect the vessels from damage by catalytic proteins.
Other ingredients in this product include vitamin C – another antioxidant; bromelain – a protein deactivator; butcher's broom – a vasodilator and cayenne and ginger root to increase circulation. Horse chestnut seed is included because it inhibits the release of lysosomal enzymes. Lysosomal enzymes are partially responsible for tissue breakdown that causes varicose veins. Matrix metalloproteinases are another contributor to varicose vein formation and they are inhibited by Quercetin and Rutin in this product.
Dosage
The supplement is given in a capsule form and must be taken orally 3 times daily. At each occasion either one or two capsules can be taken. They should be taken with meals. The manufacturer is not forthcoming about the amount of each ingredient that is present in the supplement. Therefore it is not possible to determine if the dosages are correct in this product.
Possible Side Effects
This product has not yet been deemed undeniably safe for pregnant women, nursing mothers or children. There are also no sufficient studies bout interactions it could have with serious medical conditions or chronic medication. In each of the aforementioned cases, it is suggested to consult a doctor before using this product.
Price
Each box of NaturalCare Vein-Gard Capsules contains 60 capsules. This equates to a 10 to 20 day supply. Each package of 60  capsules costs $18.99 excluding shipping and taxes. Given the low amount of capsules per package, it is unfortunate that there appears to be no offers for buying bulk supplies of this product at a discounted price.
Guarantee & Feedback
The customer is allowed to return the product within 30 days of purchase if they are unsatisfied for any reason. The package can be returned open or unopened. The customer will then receive a full refund excluding shipping and handling costs. There appears to be no platform provided by the manufacturer for customers to post their feedback and so no customer reviews are available for this product.
Our Conclusive Review About NaturalCare Vein-Gard Capsules
NaturalCare Vein-Gard Capsules contains a variety of natural ingredients which exhibit minimal side effects. The manufacturer does offer a guarantee which shows some degree of confidence in their product.
We did find some drawbacks for this product. The dosage instructions are ambiguous which could lead to varying results. The amount of capsules per package is also very small considering that varicose veins take significant time to heal. For this reason, we consider the price to be quite high. There is also some doubt in the effectiveness of this product because there are no customer reviews available.
Bringing you top reviews and product analysis - Consumer Advisors.