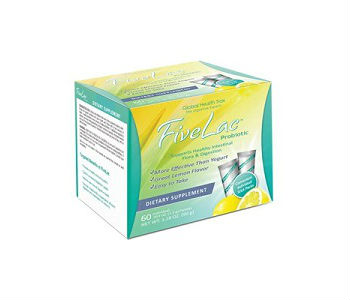 User Ratings (

0

Votes)

0
Global Health Trax FiveLac Probiotic is one of the products that we became interested in reviewing to see well it works to treat the causes and corresponding symptoms that are associated with yeast infections. During the review process, several factors were taken into consideration in order to make an overall determination. Aspects that came into consideration included looking into the amount of effectiveness that an ingredient contributed to the supplement, and in some cases, the less than satisfactory contribution the ingredient made toward the effectiveness of the supplement.
Ingredients
Bacillus coagulans
Bacillus subtilis
Beta Cyclodextrin
Bifidobacterium longum
Carbohydrates (Sugars)
Dietary Fiber (Galactomannan)
Enterococcus faecalis
Erythritol
Fruct-Oligosaccharides
Lactobacillus Acidophilus
Lactose
Lemon Juice Powder
Refined Dry Yeast Powder
Silica
Vitamin B6
Vitamin B1
Vitamin B2
This is not a vegan-friendly supplement.
Dosage
The dosage directions for FiveLac are somewhat unclear as to the proper amount a typical individual needs in order to obtain the results they desire. It is suggested that a person start by taking 1 or 2 sachets on a daily basis for the first week. To obtain a therapeutic dosage, the user needs to take about 2 to 4 sachets on a daily basis.  A therapeutic dosage is around 2 to 4 sachets per day. It is up to the user to experiment with the product in order to find the right dosage that works. People may find that it only takes one sachet per day to achieve the desired results, while other people may need as many as six sachets on a daily basis to achieve positive results.
Price
The price of one box of this supplement has a retail cost of more than $54.95. This means that if a person needs to take 2 sachets per day, they will go through one box per month. At approximately $2 per day, this proves to be quite pricey when compared to other supplements that are available on the market.
Side Effects
The FiveLac supplement is not recommended for those people who suffer from severe lactose intolerance.
Guarantee
Upon researching the link for this supplement, it is not known whether or not the company offers any type of refund if the user feels dissatisfied with the quality or effectiveness of the product.
Conclusion Of Our Global Health Trax Fivelac Review
FiveLac is a worthy alternative for those people who are seeking preventive measures for handling microflora imbalances. It should be noted that a number of people who reviewed this supplement also made the determination that this product is not very effective when it comes to treating yeast infections or thrushes. There are also instances where people who stopped using the product found that the thrushes became more pronounced.
Bringing you top reviews and product analysis - Consumer Advisors.